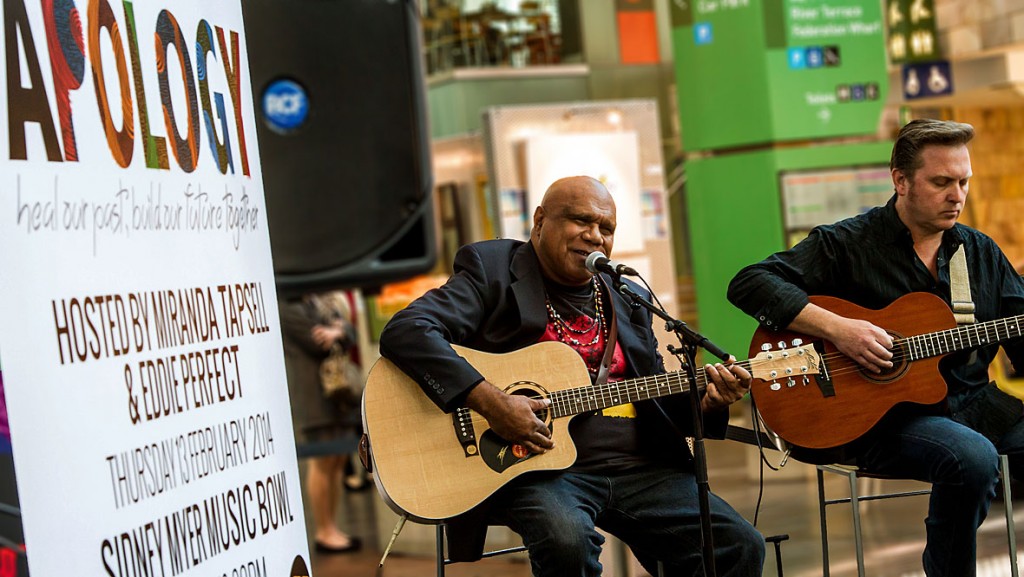 A concert at Melbourne's Sidney Myer Music Bowl to celebrate the anniversary of the Apology to Australia's Stolen Generations on 13 February 2014 was launched in Melbourne's Federation Square on Tuesday.
The concert, Apology – Heal Our Past, Build Our Future Together will bring Aboriginal and Torres Strait Islander and non-Indigenous performers together in a shared vision of unity for all Australians.
Some of Australia's best Indigenous and non-Indigenous musicians will perform at the free concert hosted by the Healing Foundation, an organisation established on the first anniversary of the Apology to support members of the Stolen Generations and their families through healing programs across the country.
Melbourne based actress and Yorta Yorta/Wiradjeri and South Sea Islander woman Kylie Belling hosted the launch which featured performances by Uncle Archie Roach and hip hop artist Jimblah. The Welcome to Country was performed by Wurundjeri Elder Aunty Di Kerr who also spoke about the importance in understanding each other.
"Then we can live in harmony and walk together," Aunty Di says.
Concert performers were announced at the launch – a stellar line up of Indigenous and non-Indigenous musicians including Christine Anu, Archie Roach, Frank Yamma, Jimblah, Thelma Plum, and Kutcha Edwards. They will join non-Indigenous performers including Tim Rogers from You Am I, Hip Hop duo Horror Show, Clare Bowditch and Australian urban roots band Blue King Brown to bring Melbourne a night of unforgettable entertainment.
The much anticipated anniversary concert, Apology – Heal Our Past, Build Our Future Together, is being hosted by singer-songwriter, actor and comedian Eddie Perfect and Aboriginal actor and star of the Sapphires, Miranda Tapsell. For Helpmann Award winner, Eddie Perfect, the opportunity to co-host is one way to create a shared and positive vision between Australia's First Peoples and non-Indigenous Australians.
"I'm incredibly proud to be involved in the Healing Foundation's Apology Concert. For me, the Apology constituted an important and symbolic step towards acknowledging Aboriginal identity, past wrongs and a commitment to working towards a unified future," he says.
"As with all symbolic ideas, what needs to continue is real action. We have such a long way to go in Australia in building bridges back to Indigenous communities, creating real outcomes that see better options for health, education and strengthening Indigenous culture."
The Apology Concert is a national event aimed at cultural exchange and healing. As a nation, Australia has progressed in acknowledging and healing the Stolen Generations but there is more to be done, and all Australians can work together to build the future.
"In an area which is so quickly politicised, which so readily creates discomfort and blame and recriminations, I'm proud to be a part of a process that enters into a spirit of healing, reconciliation and discovery with an open heart, an open mind and a sense of togetherness."
For Stolen Generations member and Human Rights Award winner Uncle Archie Roach it's important the nation comes together on the anniversary of the 2008 National Apology.
"What happened to the Stolen Generations can't be erased or taken back and the anniversary is there to remind people it shouldn't have happened, and we need to come together on that day to make sure it never happens again," Uncle Archie says.
"What happened to us affected the whole country, black and white and I hear it from non-Indigenous people that they are truly sorry and regret the fact that children were taken away. Artists, actors, performers need to come together on the anniversary and be strong around what took place, and give a continued voice to it."
He believes that the Apology began the healing for the Stolen Generations but there is still more to be done.
"If I apologise to someone I say, 'I've hurt you and what can I do to ease the damage'. This might be the 6th anniversary of the Apology but there are still things that need to be done to heal past wrongs, and that is joint work, between Indigenous and non-Indigenous peoples of this country," he says.
"We need to start with the younger generations to make sure they grow up in a reconciled Australia. We can do what we can, but we are really planting the seeds for our children and our grandchildren. Music is a great medium and it impacts on people on different levels. It brings people together and that's what the concert will do."
For more information, head to www.healingfoundation.org.au
To subscribe to Deadly Vibe Wire and keep up to date with everything Deadly click here.
Click on the below links to see other stories from the Wire this week:
Rookie Hayden gets big break
Entrepreneur leads the way
Andrea ACCELERATEs her career
Uni scholarship kickstarts dreams
Front and centre on land and water
Boost energy levels the right way
So who's Deadly Funny?
Flashback – Wayne Blair – The Play's the Thing!
Deadly Sounds rewind: click here and listen to Sean Choolburra from 2013
Call for Move it Mob Style® dancers
'Colour Theory' paints a picture
AMS of the week – Vision for equality in health care