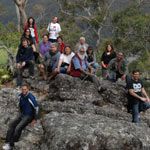 Here's a great opportunity for budding Indigenous artists out there.
IndigeLab is a two-week residential workshop/laboratory for Indigenous artists who work in different artforms from around the nation to participate in a challenging environment of exchange, experiment and play.
It will take place at the Bundanon properties on the south coast of NSW from Saturday 31st October to Friday 13th November 2009.
Performance Space has initiated and will manage IndigeLab from 2009 to 2011, and will produce it in partnership with Bundanon Trust.
Working and expanding on its highly successful 2007 pilot program of the same name, IndigeLab focuses on developing process rather than product.
Participants are invited to enter a hothouse environment where ideas are shared, collaborative relationships are seeded and critical debate is robust.
There will be discussion concerning the relationship between our Traditional heritage and our Contemporary practice. IndigeLab will be led by three facilitators – Wesley Enoch, Brook Andrew and Darlene Johnson- who will collaborate and develop a series of tasks, provocations and dialogues for participants to engage with.
Ten participants will be chosen from a national call out. Each will receive a $1,100 honorarium (inc GST) to participate. Accommodation, meals and some transport will be provided.