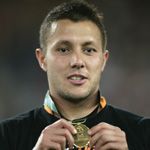 Deadly Vibe Issue 105, November 2005
Year of the Tiger
As the saying goes, when you're up you're up, and right about now Scott Prince couldn't get much higher.
One of the most inspiring stories to come out of rugby league in a long time is that of Wests Tigers sensation Scott Prince.
Scott made his NRL debut with the North Queensland in 1998 before jumping at the opportunity to team up with Wayne Bennett and the Brisbane Broncos. But his visions of future glory with the Broncos were quickly shattered with Scott was left to pick up the pieces when he suffered a horrific run of potentially career-ending injuries which included two broken legs.
Compounding Scott's suffering at this time was the loss of his father; his greatest supporter and someone who he was extremely close to.
In an attempt to resurrect his career, Scott moved to Sydney and signed with the Wests Tigers. It was at Leichhardt where finally his luck began to change.
In 2004 Scott enjoyed an injury-free season for the first time in some years, giving this talented half-back the chance to display exactly how impressive he could be. He helped guide the Tigers to their best season finish since the club's merger, and also earned his first Queensland State of Origin selection.
2004 was the year that things seemed to turn around for Scott, but there was no way he, or anyone else for that matter, could have predicated just how kindly the football gods would smile upon him in 2005.
In a season which could have easily been lifted straight from the script of a Hollywood movie, the Wests Tigers – the 150-to-one outsiders to win the premiership – became the NRL's "Cinderella side", toppling the league's star-studded outfits throughout the home and away season and qualifying for the finals for the fist time in the merged club's history.
As the Tigers rode a tidal wave of momentum all the way to Telstra Stadium and eventual Grand Final glory, Scott was the man steering the team all the way, marshalling and orchestrating the club's on-field success.
He was named the 2005 Dally M Captain of the year and was also a deserving winner on Grand Final day of the Clive Churchill medal.
And even as Scott was whooping up the victory with teammates and ecstatic fans, things just kept on getting better, as it was announced that he had been selected in the Australian Tri-Series squad to take on Great Britain and New Zealand.
Scott was the only member of the Tigers Grand Final winning team to make the Australian side and has also become the first-ever Wests Tigers player to play for the Kangaroos. He is the only Indigenous player in the team and it is his first-ever call up for national honours, the highest representative honour in the game that any player can receive.
Scott's Australian call-up was the icing on the cake of the type of season few players even dare to dream of. But in light of what Scott has overcome during his career, we can't think of any player who deserves it more. Deadly Vibe congratulates Scott Prince on a year to remember!
(story date November 1, 2005 end)
Deadly Vibe Issue 99 May 2005
Great Scott!
Family matters – just ask Scott Prince.
If you're a young aspiring Indigenous football player, there probably isn't a more inspiring or fitting role model around right now than West Tigers' superstar half-back Scott Prince.
After overcoming some major setbacks and disappointments, Scott's career has really taken off over the last two seasons, and he is now enjoying all the success and kudos he has deserved for so long.
Like many sportsmen and woman, Scott's inspiration has come from a place very close to his own heart – his family.
"My uncle, Vern Daisy, was a bit of a football legend up in north Queensland," Scott says. "Where I grew up he was someone I always heard a lot about and I looked up to him as a role model. He was a real character and a great footballer.
"He's also been there to give me advice, and when it comes to football some of the advice he gives can be pretty funny, because back when he was playing, you could get away with so much more on the field."
Another of Scott's role models was his father, who sadly passed away a few years ago. While Scott found plenty of motivation in hearing the exploits of his uncle, it was his father who showed him the importance of hard work, dedication and love for family. These are all traits that Scott has relied heavily upon and which have helped pull him through some of the lowest moments of his career.
"Obviously when you're growing up, your father moulds you into the same kind of bloke that he is," he says. "My father was the major role model in my life. He was the provider for the family and the one who made sure that were looked after and had food on the table.
"He worked in the mines at Mount Isa for 20 years and I always thought that that's exactly what I would be doing – following in his footsteps."
However, Scott's talent as a player and the support he received from his family meant that he was able to realise his dream of becoming a first-grade footballer.
But even though Scott has met many great footballers since he began his career, it's still his father who he looks back on as the biggest hero of all.
"His work ethic and his commitment to his family were very special things, and they mean even more to me now that I have a family of my own."
(story 1/5/2005 end)
Deadly Vibe Issue 91 September 2004
Scott Prince established himself as an exceptionally gifted player with endless potential at a young age. Since then, Scott's battle has been to fulfill that potential in the face of some major setbacks.
Scott made his first-grade debut with the Cowboys in 1998 at age 18.
From the Cowboys, he joined the Broncos for three seasons before being lured to the Tigers by coach Tim Sheens.
When he joined the Broncos, Scott had the football world at his feet. Unfortunately, he would spend more time watching his new team from the sideline than showing what he could do on the field.
(Story 1/9/2004 end)
Fresh from competing in the World Club Challenge in England, Scotty Prince is really making an impact this year with his new team, the Brisbane Broncos. His ability to read the opposition as well as his freakish ball skills are already making him a crowd pleaser among devoted Broncos fans.
Prince, who used to play for the North Queensland Cowboys, says he's really enjoying playing footy at his new club. "I think you play your best football where you're happiest and I'm happiest here at the Broncos."
Scott's new teammates will also be looking for him to lead them to yet another grand final as the Broncos go into one of the toughest years of competition ever faced.
If Scott's start to the season is any indication of what's to come then we may even see him represent Queensland in this year's State of Origin series.
We wish Scott all the best and hope to see him in a Queensland jumper in game one of the State of Origin on May 6.