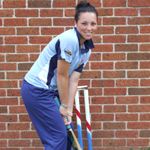 New hope in the long stretch between innings for our Australian women cricketers
It's more than 50 years since an Indigenous woman played cricket for Australia. Talented left-hander batter Samantha Hinton is looking forward to taking up the challenge.
Samantha Hinton, from Wellington in central NSW, is being hailed as Australia's next emerging female Indigenous cricketer.
At this year's Imparja Cup, 20-year-old Samantha led the NSW Indigenous women's cricket team to victory for the second year in a row. She also plays for the NSW Women's Second XI team and is a member of the NSW Breakers' Development Squad, a training squad for the next generation of female players.
Samantha hopes that one day she'll make the Australian cricket team and is working hard towards her dream.
"It's always been my goal and hopefully one day I will make it. It's been an achievement for me to make the NSW Breakers' Training Squad. Now I'm trying really, really hard to make the NSW Breakers [team]. Hopefully I'll keep getting runs on the board, then one day I'll make the Breakers, then the Australian team. That's my goal and I'll keep going until I make it."
Samantha is in good cricketing company. The Breakers were undefeated in the 08/09 women's cricket season and NSW players make up nearly half of the Australian women's team. It seems Candice's goal to make the national team is definitely within reach.
The first, and so far only, Indigenous woman to make the Australian women's team was Faith Thomas, a Nunga woman from SA, in 1958. Since then there hasn't been an Indigenous national female cricket representative, but hopes are high for Samantha. The comparisons between Faith Thomas and Samantha Hinton don't stop at cricket. Faith Thomas was a nurse, and Sam, who works at a nursing home, is also studying nursing.
"I think just caring for people and looking after old people, as well as the young, really encouraged me to be a nurse," Samantha says. "It's really lovely to help everyone."
Hinton is also dedicated to cricket and works hard at her chosen sport. Every week, she travels more than four hours to Sydney to train with the Breakers Squad and the NSW Second XI then takes the long trip back home to Wellington.
She says she's come a long way from 10 years ago when she started playing cricket in grade 4. That's when her outstanding batting talents were spotted by her school physical-education teacher. The left-handed batter says her strong batting remains her strength. And the future?
"I have my nursing career ahead of me, so I'll just have to see what happens over the next year. After that I might take 12 months off and see if I can focus more on my cricket."
Whenever Indigenous cricket is mentioned, so is Samantha Hinton. It looks as if we'll be hearing a lot more about this talented cricketer yet.