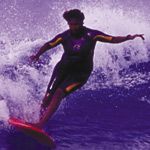 Deadly Vibe Issue 85 March 2004
WHEN Deadly Vibe caught up with lively NSW surfer Jodie Barsby, she was going through a bit of a dry spell.
" I haven't had a surf now for three weeks ' it's been the longest time that I've spent out of the water!" Jodie said, explaining that the waves around her Crescent Head home haven't been up to scratch lately.
But the fun-loving 21-year-old has been catching waves in lots of other places ' in the past few months, she's been busy making the usual competition rounds. She took part in the Malfunction comp at the Gold Coast before heading to Noosa for this month's Festival of Surfing. And after her Noosa commitments, she'll jump straight on a plane to surf in New Zealand. Jodie is one busy young lady!
All of this activity is a bit of a change from last year, when Jodie took some time out from the surfing circuit to concentrate on work. Jodie works as a quality manager for the Booroongen Djugun College in Kempsey.
Jodie, who was born on Thursday Island in the Torres Strait, says she loves riding longboards because "they're easier to ride and they're a lot more fun" than short boards.
" One of my favourite things to do is nose-riding," Jodie says. "That's when you're hanging five or hanging 10. I try to nose-ride for as long as I can. It's all a matter of timing and momentum. You start off shuffling up the board and back, then try walking up to the front of the board. You build up to making it look easy but it's a difficult manoeuvre."
Jodie's surfing action impressed the judges at the Australian Longboard Titles at Lennox Head two years ago, when she took out her best placing ever by finishing third.
That year, she also clocked up a win at the Newcastle Longboard Pro Am.
It's all a long way from when a young Jodie first climbed aboard her dad's old Malibu at age 11. She'd already been bodyboarding for a while before she decided to give surfing a go. Since then, she's never looked back.
Jodie's dream is to one day become the Australian longboard champ. Although she is firmly focused on this goal, she hasn't forgotten the simple pleasures of being at one with the ocean.
" You get a big buzz out of surfing," says Jodie. "You can just have the time of your life."
(Story 1/3/2004 end.)
In 1996 a 13-year-old Jodie Barsby got tired of bodyboarding at the beach and so decided to drag her dad's old surfboard out of retirement. And she hasn't looked back since!
Learning how to surf by watching other people catch waves at her local beach of Crescent Head, and getting tips from local surfer Bob Kennerson, Jodie quickly became an accomplished longboard rider.
The very next year at the Gold Coast's Malfunction event, Jodie came an impressive third. Her hero and former world longboard champion Bonga Perkins was so stoked with her performance that he gave her the board he'd just won the men's event on as an encouragement award!
"I still see Bonga every year I go to Noosa to compete," says Jodie. "He's a legend and he always gets the best waves."
Now 19, Jodie has developed into one of Australia's best female longboard riders. Her most memorable win to date was coming first in the inaugural Women's Pro Longboard Championships, held on the Gold Coast in 1999.
Away from surfing Jodie relaxes by watching TV, hanging out with friends and playing her Nintendo 64. She also works part-time in her father's shop. And now that's he completed her HSC, Jodie is ready to take on the world.
"My goal for 2002 is to compete overseas and hopefully in the next couple of years to become world champion," she says. "My ultimate surfing destinations are Hawaii and Costa Rica, but I also really like the home swell at Crescent Head – that's my favourite spot."
Jodie's sponsors include Hawaiian Pro Design surfboards, Human footwear and Balance surf accessories. At the moment she is looking for a major sponsor to help her fulfil her dreams of competing overseas.
The best advice Jodie can give young Indigenous surfers is to "have a go and don't give up". And she also has this to say: "Longboarding chicks rule!"
Deadly Vibe Issue 70 December 2002
When Jodie Barsby was just a little bubba, she fell off the first-floor balcony of her parent's house and broke her nose, necessitating a trip to hospital.
"I think I was chasing after one of the dogs," she recalls. "Although, I may have been trying to fly."
Fast-forward to the present and 2002 Australian Longboard Circuit (ALC) champion Jodie is "˜flying' some of the best breaks in the country: Coolangatta, Lennox Head, Noosa, Scotts Head, Byron Bay, and of course her home surf of Crescent Head on NSW's Mid-North Coast.
For this year's Golden Breed Australian Longboard Titles, Jodie, surfed strong at Lennox Head to come third in the open women's division, her best result to date.
"The level of competition was really high, so I was really happy with my result," she says. "But I could have done better " I wasn't focusing too well. I'd received some tragic news earlier on and was struggling with it."
To achieve a result like that in such circumstances demonstrates strength of spirit and a commitment to her sport few can match. But then Jodie has been sea-struck for as long as she can remember.
Born on Thursday Island in the Torres Strait, Jodie and her parents moved to the Mid-North Coast when she was just a baby. Her father, who runs Barsby's department store in Kempsey, gave her his old malibu to amuse herself on when she was 11.
"I'd been bodyboarding for a while, entering in local comps, so I thought I'd try surfing," she says. "Then when I was 13, Mum and Dad got me a new Bob Kennerson board."
It was the beginning of a great friendship " and not just between her and the board.
"Jodie went to school with my daughter and I know her dad quite well," says the Crescent Head-based board designer, whose "˜Kenno' malibu is a sought-after instrument of the sea. "I more or less took her under my wing and coached her in some of the basics. Now she's come through the ranks to get to where she is, which is something you don't do overnight."
That's for sure. In competition for six years, Jodie has come first in some 30 events. At her first major comp, 1997's Malfunction on the Gold Coast, she placed a cool third. The novice so impressed 1996 world longboard champion Bonga Perkins, that he gave her the board he'd just won his event on.
Since then, she's built up quite an impressive collection.
"I have a Hawaiian Pro Design performance board, a Hawaiian Pro Design noserider, and a traditional Model T board," says Jodie. "I've also got an eggboard, which you can do fast turns on like a shortboard but cruise on like a longboard. And I have an old shortboard too."
After spending decades in the doghouse for being too slow and daggy, longboards have made a real comeback of late. Improved design techniques mean they are lighter than ever before. Perhaps former world champion Sunny Garcia puts it best when he says he surfs his shortboard to make money and his longboard to have fun.
"With a longboard you have the advantage of being able to get waves before shortboarders do because of the length and the weight," says Jodie. "We can also do tricks shortboarders can't. Longboarding is more mellow and, yes, more fun!"
It may be more fun, but in terms of comps, shortboarding is where the money is. And, as a result, those comps can get a bit testy at times.
"Some of my friends on the professional shortboard circuit tell me how good it is to hang out with longboarders because we see the fun side of things. They say their scene has more bitchiness and aggressiveness in it. My view is that it doesn't matter what you ride so long as you enjoy it and have fun."
Success, as they say, is often a by-product of doing what you enjoy. Even though she's still young, Jodie has already been presented with an Australia Day award for Sporting Achievement and an Australian Sports Medal.
"Winning those awards was very unexpected!" she laughs. "It was a shock to get something other than a surfing trophy, and from the community too. My parents were very proud of me."
So is five-time Australian champion Peter Hudson, who has coached Jodie on and off over the years.
"I met Jodie when she was 13 or 14 and coached her then," says Peter. "I'm coaching her again now because I believe she has a lot of potential, not to mention the nicest smile in the world!"
Does she have what it takes to compete on the world stage?
"Travelling is the hard bit. It depends whether she can handle being away from her mum and dad. But I don't see any reason why she can't manage that."
Bob Kennerson agrees.
"I don't think she'll have any trouble overseas. Any of the girls who've been to Costa Rica for the world championships have also been out here, and Jodie's beaten them. She's up there with the best."
Of course the hard part is attracting sponsorship to enable you to travel. Despite being this year's leader in the professional circuit (something she also achieved in 2000), and coming third in the national titles, Jodie is yet to sign on the dotted line with a major sponsor.
In the meantime she's gaining experience in the area of Aboriginal education, working for Booroongen Djugun Aboriginal Corporation in Kempsey.
"We provide heaps of courses to Aboriginal and Torres Strait Islander people including community services, community and health work, frontline management and business," says Jodie. "We have about 500 Indigenous students enrolled from all over the region."
She also enjoys passing on her knowledge of surfing to others.
"I started teaching an eight year old who'd never surfed before. I took her out on the board and she absolutely loved it. Now she's coming back up this way for Christmas and is expecting lessons from me again! But I'm happy to do that " she got such a buzz out of it."
Which is exactly what Jodie gets every time she heads down the beach for a surf. And sometimes, just sometimes, she finds herself in unexpected company.
"When there's a good surf at Crescent Head you often get dolphins jumping out of the water while you're surfing a wave. It's like they're playing with you!"
Jodie nominates her parents, Graeme and Emma, as her heroes, along with long-time supporter Bob Kennerson.
"My parents have supported me for 20 years, especially with my surfing. I wouldn't be the person I am now without them. I look up to Bob too. He's always looked after me and given me good advice. He's a great guy."
Bob can rest assured that his hard-earned advice hasn't fallen on deaf ears.
Motivated, personable and mature beyond her years, Jodie Barsby is poised for bigger waves.
"My goals for the next few years are to become Australian longboard champion and to compete well overseas. Eventually I would like to win the world championship."
And with her killer manoeuvres and winning smile (or is it winning manoeuvres and killer smile?) those are entirely achievable goals.
(Story 1/12/2002 end)