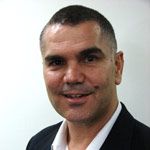 Dr Chris Sarra has taken a swipe at teachers for expecting less of their Aboriginal pupils.
Dr Sarra is the director of the Indigenous Education Leadership Institute in Queensland and has just completed a review of education in the Northern Territory.
He believes that the Territory's Education Department has inadvertently created an underclass.
He says current training for teachers on working with Indigenous students is part of the problem and does not blame teachers for being "bamboozled" by cultural differences.
Last year national testing showed Indigenous students in the Northern Territory had some of the highest illiteracy rates in the country
The review was commissioned after the department's chief executive officer was sacked by the territory Education Minister in October last year.
The report has been handed to the Territory Government, which says it will not release it for at least a month.
In spite of speculation it recommends redundancies, Dr Sarra says it is inappropriate to reveal details.