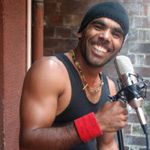 February Hip Hop Drop
All My People by Tribal Suns is one of my all time favourite tracks. Tribal Suns is a bit of an all star affair, a super group of sorts. Producer & MC Dee Kay, who used to be in Native Rhyme Syndicate, joins forces with Impossible Odds front man Fred Leone AKA Rival MC and Murri Boy Tommy Weatherall to make up this trio of Brisbane MC's.
Representing the Yuin nation from Wallaga Lake on the south coast of NSW is WZA. He has an album out called Dreamtime which features a bunch of fantastic tracks where Warren, talented fella he is, raps, sings and plays guitars. We will be hearing a lot more from this fella as he has his own sound that is distinct and original.
Cappa Ak, otherwise known as Casey Atkinson, is an up an coming MC on the Melbourne scene and, together with Matty Beattie AKA M2thaB, make up the crew The Alter Egoz. The lads have signed with Payback Records, the Indigenous hip hop label owned by Essendon AFL star Nathan Lovett Murray.
Wire MC is a descendant of the Gumbaynggirr nation from the mid north coast of NSW, who first encountered hip hop while growing up in the town of Bowraville.
Defiant and lyrically brilliant, Wire MC has performed and hosted workshops throughout Australia, recording tracks with numerous communities and artists.
He has finally released his long awaited debut album called Country Rebel Boy. One of my favourite tracks is Face My Music, featuring Sista Native.
Redfern Community Centre held workshops with young budding MC's and mentor Wire MC. The culmination of those workshops is the formation of the Block Brothers.
Reagan Carr, Nate Tang, Stevie Steve and MC Likwid all showcase their skills on a track called Flowers and Trees, produced by Wire MC. It has become a bit of a hit on radio around the country and a bit of an anthem for the young fellas on the Block in Redfern.