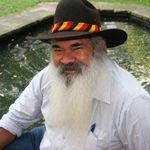 Pat Dodson – one of Australia's most prominent Aboriginal leaders and former Chairman of the Council for Aboriginal Reconciliation – will head up a new Indigenous unit at the University of New South Wales (UNSW).
Pat Dodson takes up his professorial appointment in the Indigenous Policy and Dialogue Research Unit next Monday (2 March).
The Unit is part of UNSW's prestigious Social Policy Research Centre in the Faculty of Arts and Social Sciences.
Professor Dodson's work will focus on fostering new types of dialogue, involving all Australians, on issues most vitally affecting Indigenous people.
"We will begin this process at the regional level, where too often local communities feel excluded from policies and decisions that directly affect their daily lives," Professor Dodson said.
"This is not a talk-fest. It's about developing an interface between industry, governments, Indigenous and non-Indigenous Australians," he said.
Professor James Donald, Dean of Arts and Social Sciences, said he was delighted that someone of Pat Dodson's standing has joined UNSW to embark on such important work.
"This will bring a new dimension to our social policy research and contribute to a vital national debate. I am especially excited by Pat Dodson's emphasis on the philosophical underpinnings of that debate," Professor Donald said.
Professor Dodson's work will begin next month with research in the Kimberley, before extending to other areas across the country.
Nura Gili Indigenous Programs at UNSW will fund one of two research fellows for the first year of the Centre's operation.