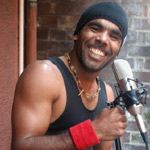 Direct from his hosting role at Yabun, Indigenous rapper Wire MC jumps straight into the celebrity health hot seat this month.
Doing live shows must sap lots of energy. Do you need to be in good physical shape to put on a good show?
Yeah, it does, you spend a lot of energy not only during the performance but prior to it because you're building up all this anticipation. So there's a lot of energy spent just geeing yourself up for the performance. You definitely need to have some sort of aerobic fitness about you if you're going to be up on stage running around entertaining the mob and the masses.
How do you prepare yourself mentally and physically for a performance?
Well mentally I'll just find myself a quiet space and go over my lyrics and go over the tracks I'm going to do, go over what I'm going to be doing, how I'm going to be moving about. Being a fresh water boy, I'm definitely drinking plenty of water before I get on stage as well as while I'm up there. I make sure that I've got a bit of sugar just to keep the energy levels up and always eat good the night before.
Are their any particular health concerns in your family that you need to keep an eye on?
Yeah, I was born with a slight heart murmur and there are some cases of diabetes in my family, so they are two things I stay mindful about.
Do you make an effort to watch what you eat?
Every now and then I might have a bit of a splurge on junk food but most of the time I'm just a big meat and vege's fan.
How do you stay in shape?
I work out in the backyard, do a bit of calisthenics, some body weights, little bit of aerobic workout and I'm always going for a skate. I'm always walking where I can and just staying physically active, having a run, taking my boys out to the park, walking the dog, all those little everyday sort of things.
Do you encourage your boys to stay active as well?
Yeah, most definitely. I make sure they don't spend too much time in front of the Playstation 3.
How do you stay mentally strong?
Well, you always have to maintain a sense of positivity no matter what negative aspects might be going on around you and you always have to realise that tomorrow can always be better than today and yesterday.