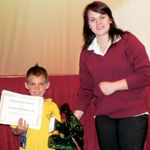 Shanaye Baxter loves boxing and playing the drums. Meet the new school captain of Queanbeyan high school.
Shanaye Baxter has wanted to be school captain ever since starting high school.
"I've always been one to stand up and do things," she says. "I was school captain in primary school and I do lots of public speaking."
Now 17, Shanaye has been elected the girl school captain of Queanbeyan High School for 2008-09, another young Indigenous leader to add to the list of those that have led their student body.
Wiradjuri woman Shanaye exhibits all the qualities of a young leader. She is articulate, focused, a doer and an independent thinker who literally moves to the beat of her own drum, having played the drums since the end of Year 6.
"I watched a movie and there was a girl drummer and it seemed like so much fun," she says. "I have a drum kit and I had a drum teacher until recently. I love music and I love playing the drums, it's something I do outside of school.
Shanaye is also one of a growing number of young women who like to keep fit through boxing, something she trains in three or four times a week at the Winnunga Nimmityjah (meaning strong health in Wiradjuri) Health Centre at Fyshwick in nearby Canberra.
"It's something my brothers and dad do. I love it as a way to keep fit. It's sparring and exercise and I might take part in a tournament if I get fit enough."
Shanaye comes from a supportive and active family. Mum and Dad, Susan and Adrian, have four children, Kiralea, 19, Jayden, 15, and Brendan, 13, with Shanaye the second eldest. Youngest brother Brendan is already the under 14's ACT boxing champ.
"My Dad and brothers all box, that's how I became interested," she says.
At school, Shanaye leans towards the creative subjects such as art, drama and creative. "I like performing, if you hadn't guessed," she says with a laugh. "But since the start of Year 11, I have been studying Society and Culture and that is by far my favourite subject. You learn so much about people, history and geography."
Shanaye is certain she will go on to further study beyond high school but is yet to determine what path that will take.
"I want to do everything," she says. "But one of the things I would like to do is help the homeless. I did a history project on homeless youth and that really had an impact on me."
Becoming school captain at Queanbeyan High is not as simple as an election. There is a process throughout Term 3 which begins with nominations from senior students. The nominees then write a letter to the prefect coordinator about their achievements and why they think they would make a good school captain.
Then the nominees are interviewed by a panel comprising the Principal, the senior student advisor, the prefect coordinator and the outgoing school captains. Finally the nominees make a speech to the student body before the elections take place. The elections are conducted in the school hall much like the parliamentary voting system with ballot boxes and forms.
"The votes are tallied by the outgoing prefects and announced at the end of Term 3 when year 12 graduates. We had three nominees for both boy and girl captain, so that worked out fine as there are normally the captains and two prefects."
Part of Shanaye's platform she wants to realise during her time as school captain is greater involvement of Indigenous students in the school year.
"Beyond NAIDOC, which we recognise every year at the school, I'd really like another day where the Indigenous students can take on the role of leaders and talk to the other students about how they fit in. It's really about sharing our culture with the rest of the school.
"I know it's seen as an ancient culture but a lot of the culture is still in families like mine. It's really a living culture.
"One of the things I have really noticed is the sense of family that is so strong in our culture, family has always been such a strong part of who we are."
Clearly, Shanaye's family upbringing has given her confidence, a sense of self and her place in the world that will help her achieve whatever she sets out to do.