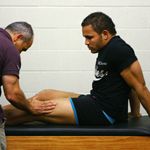 Matt Bowen is on track for a surprise NRL return in North Queensland's round one clash with Brisbane.
Bowen missed much of the 2008 season after undergoing knee surgery in July and has just begun light running for the first time since the operation.
The Cowboys have described Bowen's rehabilitation from the surgery as "encouraging" and are cautiously optimistic that Bowen will be available for the season opener on March 13.
"We are aiming for that. If he's ready for Friday 13th at Suncorp against the Broncos then great – if not he will be ready to play when he is ready to go," said Cowboys football manager Dean Lance.
North Queensland's other Indigenous star, Johnathan Thurston, is also on track for a sooner than expected return from injury after he began training on Monday.
Despite undergoing groin surgery in December, the Cowboys captain wants to play in the pre-season trial match against Cronulla on February 14.
Thurston was initially scheduled to return to the field against Penrith on February 28.
"He's pretty keen to make amends after what was a disappointing season for the club – he wants to be out there leading the charge," said Lance.
Thurston has made a habit of surprising Cowboys medical staff. In early 2008 he returned to the field four weeks earlier than expected following a shoulder reconstruction.