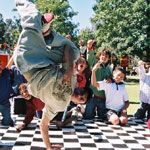 Isaac Parsons (AKA B-Boy 2 Ezy) was born in 1984 in Brewarrina, New South Wales. He began breaking at the age of 16 after watching the movie 'Breaking' and began perfecting his moves with friends.
In 2001, Isaac won the Under 18 Victorian Break Dancing Championship and then came runner up in the National Championship the following year.
Isaac attended the Vibe 3on3® in Mildura in 2001 and won the events dancing competition. The team were so impressed with his skills that Isaac was invited to join the crew and has been the 3on3's break dancing workshop coordinator ever since.
After finishing high school, Isaac worked as a Health and Family Preservation Case Worker in Mildura.
In 2005 he moved to Sydney to begin studying at the NAISDA dance college. Isaac has also performed at several Deadly Awards as well as The Dreaming Festival, The YAAMA Festival, Ice-T, Grandmaster Flash and Yothu Yindi concerts, and has even performed in the ring before an Anthony Mundine world title bout.
Isaac never fails to drop jaws in every single 3on3 destination thanks to his acrobatic style and gravity defying head spins.
"Breaking has turned me into the person I am today and given me the confidence to try other things, and I love giving people the opportunity to learn how to dance, just like someone did for me.
"It doesn't matter if they don't take it on, but just having that chance to try it out and see if they like it or not, there's nothing to loose," says Isaac.
WATCH B-BOY 2 EZY IN ACTION