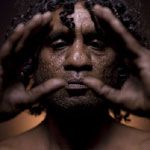 Two of Australia's foremost musical forces come together for an historic musical event that celebrates songs of hope and resistance from the open heart of Australia's contemporary Indigenous music.
Since the stunning national response to murundak that had its world premiere as part of the 2006 Melbourne Festival, The Black Arm Band has experienced huge national acclaim. Uplifting and confronting, its music renders an intimate portrait of contemporary Indigenous life.
With a reputation for excellence and versatility the much-loved Melbourne Symphony Orchestra is Australia's oldest orchestra having celebrated its centenary in 2007.
Hidden Republic delves deeply into the songbook of contemporary Aboriginal music to reflect the renewed promise of ëpost apology' Australia. This iconic music of national significance draws on the combined musical virtuosity and subtlety of 33 members of the Melbourne Symphony Orchestra together with a blistering seven piece jazz section to underscore the vocal artistry of The Black Arm Band.
Hidden Republic reveals the undiminished spirit in the music of Aboriginal Australia and songs which celebrate identity and understanding for all Australians.
Aboriginal and Torres Strait Islander people are warned that material included in this concert has been gathered from a range of sources and may contain voices of Indigenous people who have passed away.
Listen to and watch clips from Black Arm Band's Murundak here:
http://www.myspace.com/blackarmbandmurundak
Visit http://www.melbournefestival.com.au/program for more information.