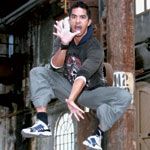 Sometimes things happen for a reason, almost like the universe has reached out and tapped you on the shoulder, drawing your attention towards a new path in life.
This is certainly how things happened for Sermsah Bin Saad, or Suri as Australia has come to know him through the hit reality TV show So You Think You Can Dance?
"I was working at Cable Beach Resort (in Broome, WA), cleaning up towels by the poolside," he says. "I picked up this towel, and a magazine fell out and landed open on the page that had an ad asking for people to audition for So You Think You Can Dance?"
While the ad interested him, Suri was worried that perhaps the show was too commercial for someone like him – a predominantly traditional Aboriginal dancer.
"But then that night my sister-in-law from Canberra called me about the show," he says. "She said I should do it – I had been dancing for years and wasn't it time I got into the spotlight?
"I was still not sure, but as she said, I had nothing to lose and everything to gain. So I flew to Perth to audition."
The first audition in Perth was the beginning of an incredibly testing journey, which saw this 30-year-old from Port Hedland suddenly flung into the national spotlight, going from one of 6000 hopefuls down to one of the Top 20.
"It was all so nerve-wracking," Suri says. "I never thought for a moment I'd make it in to the Top 20. I didn't think I've even make it into the Top 100 – there was so much amazing talent on show."
One of the aims of So You Think You Can Dance? was to ascertain whether contestants had what it takes to make it in the real world of dance. This meant pushing the dancers to the limit on a regular basis.
"It was really hardcore," Suri admits. "You're working all day and half the night, with maybe a short break for lunch. It was physically and emotionally draining – they were testing our stamina, to see how far we could push ourselves. The pressure was constant."
All this was accompanied by the constant presence of cameras, which followed the dancers' every movement throughout the entire process.
"There were cameras constantly in my face," Suri recalls. "They followed me everywhere and wanted to know everything about me. It was quite intrusive."
While Suri was physically able to keep up, he found his emotional stamina beginning the flag. By the time he had made it through to the Top 60, he was ready to throw in the towel.
"I thought about dropping out," he says, "but I realised how important it was to show that I'm a strong Aboriginal person. I want to do good things for myself, my family and my people, and I realised it was time I stood up. And I'm glad I did.
"People have been coming up to me in the street and telling me how well I did – everyone has been so positive and supportive. People of all ages and backgrounds have told me that I had given them a sense of awakening, by helping people to understand Aboriginal culture."
Suri went on to make it into the Top 14, performing everything from hip hop to the tango, before being eliminated.
"I actually felt relieved," Suri says of his So You Think You Can Dance? journey coming to a close. "I was glad it was over, because the pressure was so great.
"But I also realise that I was a part of something really incredible, and that I was selected out of thousands of people.
"It's just amazing. I've exceeded my expectations. I hope to think that this is just the beginning."