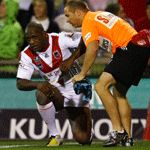 Wendell Sailor's much hyped return to rugby league was cut cruelly short on Friday night as the former Queensland and Australian star had his cheekbone broken during a tackle late in the first half.
The return of Sailor to the code in which he first made his name before switching to rugby union and later being sidelined for two years on a drugs suspension dominated headlines in the week leading up to the match.
In his first league match in six years, a stray elbow from Brisbane's David Stagg landed flush on Sailors cheek as he made a try saving tackle, sending him to the sheds soon after where team doctors immediately ruled him out for the rest of the match.
Sailor late underwent surgery and was required to have a titanium plate inserted in his face which will remain their life.
Despite the loss of Sailor, the Dragons went on to defeat the Origin depleted Broncos 28 – 10. The injury will see Sailor sidelined for a further three weeks.
While admitting to shedding a tear in the team's dressing room, Sailor remained upbeat about his return to rugby league in spite of this latest set back.
"I didn't care about the hype. I know I can play and what I can do. I just wanted to go the full game and give the Dragons some payback for them giving me another chance at footy.
"I was desperate for that. They're just a really good bunch of blokes here. I've had some dark days but getting back on the field was the chance to put all that behind me.
"I'd made it back, you know. Running out onto that field, it was such a big thing for me. That was redemption, that was it. I was shattered I couldn't finish the game," said Sailor after the match.