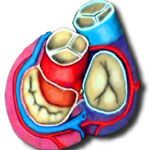 As many as one in eight Indigenous Australians have some form of cardiovascular disease, new research has found.
The Australian Institute of Health and Welfare (AIHW) has found cardiovascular disease rates are 30 per cent higher among Aboriginal and Torres Strait Islander people than among non-Indigenous people.
Hypertension is the most common cardiovascular condition in Indigenous people, followed by coronary heart disease, heart failure and rheumatic heart disease, the report found.
The greatest disparity between Indigenous and non-Indigenous Australians is in rates of coronary heart disease, which are twice as high in Aboriginal and Torres Strait Islander people, the report found.
"Contributing to this disparity were risk factors for cardiovascular disease, nearly all of which were more common among Indigenous Australians," the institute's Susanna Senes said.
Indigenous Australians were nearly four times as likely to have diabetes as non-Indigenous Australians, and were twice as likely to be daily smokers or to be obese, the report found.