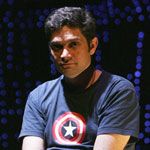 Deadly Vibe Issue 131 – January 2008
The future of the Indigenous arts is in good hands.
STORY: Speaking to Deadly Vibe just a few days before the Federal Election, Wesley Enoch is feeling quietly optimistic about the future.
"I sense that there will be a change," he says. "But no matter what happens at the election, we can't relax. We need to keep on putting the pressure on for change."
Wesley's hopes for change include an official apology to Indigenous Australians, but he also wants things to go further than that.
"We need to create ongoing, long-term discussions about Indigenous issues," he says. "Look at what Canada has achieved with its Indigenous people – they've set up a native bank, and there are Indigenous representatives in parliament."
But there are other areas aside from the political – areas a lot closer to home for this award-winning director and playwright – which Wesley feels are in need of change.
"The arts needs to become more central to how this country operates," he says. "Particularly the Indigenous arts. For instance, we need to ask ourselves – what is the future of Indigenous theatre?"
In Wesley's opinion, the future of Indigenous theatre is in the latest batch of talented and extremely versatile young actors who are currently making a name for themselves in Australian theatre, film and television.
"We have an incredible array of Indigenous performers," Wesley says. "Performers like Luke Carroll and Ursula Yovich, who have so much potential. But if we can't provide highly professional national and international exposure, we're going to lose them."
Wesley points to a period in the 1980s, when Indigenous theatre emerged as a new artistic force.
"We had people like Lydia Miller, Rhoda Roberts, Bob Maza and Justine Saunders doing some incredible things," he says. "It was all about to happen, but then it didn't.
"It was because we were depending on the largesse of white people – it was them who were running the show, not us. But now we have the skills – we need to run things ourselves. Right now, every Indigenous production that we put on is sold out. Obviously the Indigenous arts have captured the public's imagination.
"There is a hunger for Indigenous performance. We need to feed that hunger."
Wesley is currently the Associate Artistic Director of Company B; one of Australia's most respected and celebrated theatre companies based at Sydney's famous Belvoir Street Theatre. His play The Story of the Miracles at Cookie's Table, which won the 2005 Patrick White Playwright's Award, recently finished a successful run at the Griffin Theatre. He's also working on a new play, which he hopes to see in production by August.
But right now, Wesley is involved in two ground-breaking Indigenous productions appearing as part of this month's Sydney Festival – the innovative language and theatre project Ngapartji Ngapartji (see story over the page) which is appearing at Belvoir Street, and the inspirational musical event Murundak, which is to be held at the Sydney Opera House.
Murundak, which means "alive" in Woiwurrung language, is a unique performance featuring The Black Arm Band, a 28-piece ensemble which includes a line-up of exceptional singers and songwriters such as Emma Donovan, Kutcha Edwards, Ruby Hunter, Archie Roach, Stephen Pigram, Bart Willoughby and Ursula Yovich
The winner of the 2007 Helpmann Award for Best Australian Contemporary Concert, Murundak celebrates music as an instrument of identity, resistance and resilience and combines a backdrop of projected images and spoken word written by Wesley and narrated by Rachael Maza-Long.
"Our political history is mirrored by our musical and artistic history," Wesley says. "Murundak celebrates this – it's a legacy of some of the best Indigenous song-writing in our history."
Murundak features anthemic music by such acts as Warumpi Band, Kev Carmody and Archie Roach. While many of the songs deal with struggle and sadness, Wesley believes that the concert is about much more than the bad times in Indigenous Australian history.
"The truth is, we have had bad times, but there is a future to be optimistic about," he says. "Just by acknowledging our history we are celebrating it.
"Somehow, you feel a sense of relief. There is a light that shines through the music – we have the ability to make change happen."