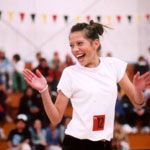 It was a weekend of oranges by the river for the Vibe 3on3® crew, as the travelling basketball festival headed to Mildura.
The Vibe 3on3® swung its way into Mildura on the weekend of July 28 and July 29 – the sixth time this popular travelling basketball and hip hop festival has visited the Sunraysia District.
The Vibe 3on3® brings together Indigenous and non-Indigenous people for a fun weekend of basketball, dancing, music, health and culture. The event encourages sportsmanship, teaches new skills and builds self-esteem as well as promoting reconciliation at a grassroots level.
Hosted by former Harlem Globetrotter Dwayne Cross and Aboriginal basketball star Claude Williams, the action-packed weekend held at Mildura Basketball Stadium featured a 3on3 basketball tournament, rapping and break dancing lessons, art workshops, a dance competition and a health expo, all accompanied by a backing track of the latest RnB, hip hop and Indigenous music.
Joining the Vibe 3on3® crew were champion breakdancer B Boy 2 Ezy, hip hop group Street Warriors and dancers Rachel Kontominas and Medika Thorpe.
Also joining the crew for the weekend was actor Luke Carroll, who spent the weekend hanging out with the locals and quizzing the young people of Mildura on their health and lifestyle knowledge as part of the Vibe Spin Out Wheel component of the competition.
More than 55 teams registered to take part in the structured dance, music, health and 3on3 basketball activities, with young people coming from the surrounding communities of Robinvale, Gol Gol, Wentworth, Dareton, Buronga and Swan Hill as well as the local Mildura area to join in the fun.
"This was the sixth time we've held the Vibe 3on3® in Mildura," said 3on3 coordinator Claude Williams, who is a fan of the region's sweet oranges. "Once again the community has confirmed itself as one of the top locations on the 3on3 tour.
"Even though it rained on Sunday, we still had well over 50 teams competing, which included teams from surrounding areas. The kids proved to be as good as any in Australia in basketball and dancing and openly expressed themselves in all facets of the event."
The Vibe 3on3® is a two day Aboriginal youth weekend festival that incorporates basketball, dancing, art, culture and health. We aim to promote healthy lifestyles, strengthen communities and boost self-esteem. The Vibe 3on3™ is also an excellent opportunity for health services and related organisations to introduce themselves to the wider community. For more information, go to www.vibe.com.au
The Vibe 3on3® would not be possible without our sponsors Rio Tinto Aboriginal Foundation, the Department of Health and Ageing through the Office of Aboriginal and Torres Strait Islander Health, the Department of Communications, Information Technology and the Arts and the Alcohol Rehabilitation and Education Foundation.
The Mildura 3on3 would also not have been possible without the support of our local sponsors the Mildura Aboriginal Corporation, the Mildura Basketball Association and the Mildura United Soccer Club.
WINNERS
Boys 10 and under
South Boys
Tyrone Mitchell
Damon Ryan
Ned Clarke -Proud
Jason Baldwin
Presenter: Paul McCullagh
Organisation: Mallee Family Care NSW
Boys 12 and Under
R Vales
David Anato
Lyndon Johnson
Harold Johnson
Luke Marlow
Presenter: Mark Williams
Organisation: Dept of Sport and Recreation
Boys 14 and Under
JJJ Champions
John Peterson
Josh Peterson
Marbee Williams
Ngarra Williams
Presenter: Dallas Kirby
Organisation: Mildura Aboriginal Health Service
Boys 16 and Under
C.Y.B
Kehan Dyce
Reid Van Zanten
Ashley Bailey
Kirtis Williams
Presenter: John Arnold (Mayor)
Organisation: Mildura Rural City Council
Boys Open
Cha Ching
Steven Peterson
Bradley Kelly
Wayne Kelly
Jerome Kelly
Presenter: Greg (Rocky) Sloan
Organisation: Mildura Aboriginal Corporation
Girls 10 and Under
Demons Girls
Cloe Manger
Cortney Manger
Tegan Cornell
Itesha Mitchell
Presenter: Nancia Guivarra
Organisation: Vibe Australia
Girls 14 and Under
Bad Tidda Girls
Casey Peterson
Chanice Kuchell
Latoya Mitchelle
Kylie Mitchelle
Presenter: Buddy Parsons
Girls 18 and Under
Kelly girls
Sarah Kelly
Veliesha Kelly
Ieesha Kelly
Presenter: Medika Thorpe
Organisation: Vibe Australia
My Story
Leon Handy
Presenter: Cathy Craigie
Organisation: Vibe Australia
Rap Boys
Coomie Boys
Dennis King
John Kelly
Gaylan Jackson
Presenter: Wok Wright
Street Worriers
Boys Break
1st Jofarlin Mitchelle
2nd Matthew
3rd Rilvy Hannah
Girls Break
1st Billie Brims
2nd Jade Kelly
3rd Ahlise Hurst
Puggy Hunter Award
Cloe Sloan