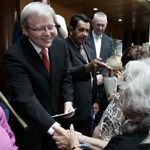 After setting a target of 10 years to halve the literacy and numeracy gap between Indigenous and non-Indigenous children, the Prime Minister has stated that there will be no a one-size-fits-all solution to the issue.
The PM has also made a commitment to ensure that four-year-olds in remote Aboriginal communities have proper access to pre-school within five years.
Mr Rudd spoke about the different needs and experiences across Indigenous communities, saying that improving educational standards needed be based on reciprocal obligation and mutual responsibility.
"We, the government, on behalf of the Australian people are prepared to provide these resources against fixed targets … but there must be a buy-in by each of the 300 to 400 remote Aboriginal communities across the country," he told Fairfax Radio.
"I don't believe it's going to be one size fits all.
"We've traveled around remote Aboriginal communities a bit … People in the Cape have vastly different circumstances to those in the central desert, to those in Arnhem Land to those in the Kimberley's to those in the Pitinjarra Lands in South Australia."
Mr Rudd said he believed solutions would be developed in accordance to the needs of each community.
"Communities have some common problems," he said.
"But on your core question of how do you get little ones to attend schools, what we will end up developing is 200 to 300 different local solutions to make that possible."