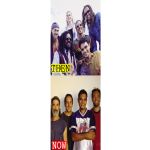 Deadly Vibe Issue 97 March 2005
Wild Waters Run Deep
Wild Water formed over 10 years ago. Today they're still going strong.
Back in 1996, readers of Deadly Vibe and listeners of Deadly Sounds voted Northern Territory saltwater band Wild Water as the Best New Talent of the Year. Since those promising beginnings, the band has grown into a truly polished act with an impressive list of accomplishments under their belt.
They're certainly an eclectic bunch; members hail from areas as diverse as north-east Arnhem Land , Central Australia , Darwin , south-west Western Australia , Papua New Guinea and Fiji . Each band member brings their own personal culture and style to the band's music, creating an exciting blend of Indigenous harmony, funk, soul, rock and country.
Wild Water have headlined at countless musical festivals and large cultural events, as well as playing support gigs for the likes of Maxi Priest, Yothu Yindi, the Cruel Sea and Tiddas.
Their debut EP Baltpa, which means "waves" in Brarra (Maningrida) language, received consistent airplay on radio stations around Australia as well as featuring on several national music television programs. They also received a special Northern Territory Youth Reconciliation award for their contribution to the process of reconciliation between Indigenous and non-Indigenous Australians.
The band is currently adding the finishing touches to their new album, which they've been working on for the past year.
"It's the first time we've recorded in seven years," says keyboardist Airi Ingram. "It's taken a long time to complete, but we wanted to get it just right."
Last year saw the band travel to Port Moresby in Papua New Guinea, to play their first international gig.
They also played at Darwin's international music festival Urban Village, where they performed alongside acts from places such as India, Sri Lanka and New Zealand.
"It was great to meet musicians from such different cultures," Airi says. "We spent as much time as we could together just jamming and writing songs."
Airi and his brother Philip are also in another multicultural band known as Drum Drum. Both bands started out on the same week, and Drum Drum accompanied Wild Water on their trip to Papua New Guinea.
"This year we hope to get Wild Water's album released and do some touring," Airi says.
(story 1/3/2005 end)