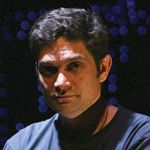 Deadly Vibe Issue 113 July 2006
Playing Tough
Wesley Enoch holds a mirror up to his audience " and it ain't always pretty.
Wesley Enoch is a man who pulls no punches. He makes people face up to things that others are all to willing to sheepishly brush under the carpet. It has built him a reputation as one of our country's most prominent playwrights and directors.
Last month Wesley was presented with one of Australian theatre's most prestigious accolades " the Patrick White Playwright's Award.
Prestigious indeed, considering Wesley was chosen from a field of 137 entries. His play, The Story of Miracles at Cookie's Table, is a saga that spans across four generations of an Aboriginal family on Stradbroke Island, where Wesley was born. The judges called it a "tough and beautiful story" about the "black history of Australia".
Wesley has been telling the story of black Australia for many years, with plays such as Black Medea and The Seven Stages of Grieving also gaining this earnest and proud Aboriginal man acclaim.
"Cookie's Table tells a story that deals with issues familiar to many of us " family, race, identity, the past and the future," he says. "But it also raises the question " who really owns the story, and who has the right to tell it?"
Wesley has recently been garnering approval for his directorial work on the production of Capricornia, the Louis Nowra adaptation of Xavier Herbert's penetrating novel of the same name. As always, he does it with his trademark bold and fearless approach.
"Capricornia is a picture of 1930s Australia," he says. "I wanted the audience to ask itself " are we still like that today?
"Just look at everything that's going on " racism against all non-Anglo people, detainment of refugees seeking asylum, the tragic situation in Wadeye. I want the audience to think " are these things that need to confronted and changed? I believe they are."
Race and racism is something that Capricornia deals with in depth, portrayed through the journey of Norman Shillingsworth, who was brought up to believe he was the son of a Javanese princess, but discovers his true heritage in a series of painful experiences.
"Sometimes you have to force people to think about racism," Wesley says. "There's enough information out there now to know that racism is wrong " these days it's a choice to be racist. It's so much more subtle and insidious today."
Wesley has worked with many of Capricornia's cast before " many times in fact. And, according to Wesley, it's this relationship that adds an extra dimension to their work.
"I call us The Family," he says with a chuckle. "A somewhat dysfunctional one at times. We're really like an unofficial theatre company.
"Actually, I think it's about time we made it official. It's what our country needs " a national Indigenous theatre company. Indigenous theatre has always been fairly community based, but now we have the chance to really grow."
Actors such as Leah Purcell, Aaron Pedersen, Deborah Mailman and Lisa Flanagan have managed to make that break through into the mainstream, but Wesley believes that much more can be done.
"We need to have that opportunity to build up more Aboriginal actors to their peak. We need to create an environment where they can get there.
"Aboriginal actors are the doctors of the theatre " we deliver the medicine that white Australia needs. But we have a perspective that goes beyond the colour of our skin.
"We have a perspective that encompasses many other issues " we can talk about old age, about children, about health and about the environment. The more we play this wider role, the stronger we will become."
(story 1/7/2006 end)