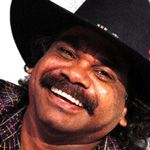 Deadly Vibe Issue 94 December 2004
Central Origins
The man with the infectious grin talks about his home in the heart of Australia.
If you're a fan of country music, then you'll undoubtedly be familiar with the name of Warren H. Williams, one of Indigenous Australia's most recognisable and popular country performers.
Now 53 years old, Warren has released four albums and is still going strong. Recently he embarked on a successful national tour, Mates on the Road, with good friends and fellow country music stars John Williamson and Pixie Jenkins.
Like most artists of his genre, the country and lifestyle of Warren's home town plays a major influential role on the sound, style and subject of his music. In Central Australian Indigenous communities, country music is one of the staples of life, and it was in the small community of Hermannsburg where Warren developed his passion and talent for country music under the guidance of his father, legendary country musician Gus Williams.
Hermannsburg is situated 100 km west of Alice Springs in the Northern Territory. It's a small community, known for its historic churches as well as being the former home of renowned artist Albert Namatjira.
"Growing up, we had to make our own fun," says Warren, reflecting on his childhood in Hermannsburg. "We didn't have things like computer games, so we spent our time doing things like camping out in our homelands.
"I can remember going out when I was young with my grandfather and grandmother to our traditional lands. I would go out hunting, putting my hand down into holes to catch goannas, things that I can't believe I did when I think about it now!"
Warren spent the majority of his youth between Hermannsburg and nearby Alice Springs, where he still lives today.
Alice Springs lies roughly in the geographical centre of the country, some 1500 kilometres from the nearest major city. Thanks to its remoteness, as well as its locality to Uluru and the magnificent central desert, Alice Springs has become one of the most romanticised towns in Australia.
While the population of Alice Springs is around 28,000, thousands more travel to Alice Springs each year to experience its unrivalled beauty.
"Alice is a big town," says Warren. "There's plenty of stuff to see and do out here in this country, so Alice is always full of tourists. The great thing about it is there are things that you can't find or do anywhere else in the world; they are completely unique to this area."
Warren's fondest memories of growing up are of walking around in the bush by himself as a young fella. Even today, the magic of the central desert country always draws him closer to his traditional and spiritual home.
"Well, it's where I come from," he says. "You can live somewhere else but you never stop loving where you come from – this is my home."
(story 1/12/2004 end)
Deadly Vibe Issue 89 July, 2004
On the road again
With a huge grin, a huge talent and a huge heart, it's no wonder that country music star Warren H. Williams easily made the cut as one of Deadly Vibe's beautiful people.
Warren, a father-of-four who was born in Hermannsburg in Central Australia, is in the middle of a year-long tour with John Williamson and fiddler Pixie Jenkins. The 'Mates on the Road' tour will even take the three as far as New Zealand.
The collaboration has been fruitful for everyone. "John never used to get black people coming to his shows but now he does because of me," Warren explains. Along the way, many of John's fans have discovered Warren's talents for the first time.
John is also helping out with some songs for Warren's fifth album, which should be released by the end of the year.
When he's on the road, Warren often comes across young people who also hope to be professional musicians one day. They come up to him to shake his hand, see if he'll jam with them and to ask for advice.
"I always tell them to think about making people happy," Warren says. "If you make people happy, you've got it made."
In between singing gigs, Warren, 41, hosts two shows on CAAMA radio in Alice Springs – one is called Strictly Country and other is in his native Arrernte language.
He is so proud of his language and culture that he hopes to one day write an opera in Arrernte language that will be performed in the desert.
"I was born a muso," he says. "Hermannsburg is a musical place – it's got the choir and we grew up with that."
(story 1/7/2004 end)
For Warren Williams, the most important thing to happen in summer is the Tamworth Country Music Festival. Warren has attended Tamworth for almost a decade now, so it's something of an annual highlight for him.
Tamworth in January is a buzz and the Country Music Festival is recognised nationally and internationally as Australia's premier country music event. The town has a cosmopolitan atmosphere with a relaxed country twist and draws crowds of well over 40,000 each year. Tamworth is definitely the place to be each January, and Warren can't wait to get there and get right into the spirit of things.
This year Warren and his four-member band have three to four performances throughout the week-long festival. The remainder of their time will be spent watching as many of the performers and buskers as possible, and generally soaking up the atmosphere.
One of Warren's Tamworth highlights was when he received a standing ovation back in 1998 for his performance of "Raining On The Rock" with John Williamson. The track was nominated for an award in the category of Collaboration Of The Year, and won the pair a Deadly for their efforts. Warren was also nominated in the same category in Tamworth two years later for the song "A Thousand Feet," also with John Williamson.
Warren is based in Alice and the rest of his summer will be spent working at his usual job with CAAMA Radio – where he is a regular DJ spinning all his favourite country tunes. He will also be busily involved in the Centenary of Federation project, co-ordinating performers for The Road Ahead Concert, which is to be held in January in Alice. Warren has just released his third album, Where My Heart Is, and promoting that will also keep him busy.
In any of his spare time, Warren says he is simply happy to spend it at home, claiming it's too hot to go out. So far they have had a lot of rain, he says, and all the rivers are full, so if anyone is up for a swim it's definitely an option. He says the rain has greened the place up and bush tucker is plentiful.

Deadly Sounds Album Release of the Year: Warren Williams – Where My Heart Is
When Warren Williams walked onstage to accept his Deadly for Album Release of the Year, there wasn't a prouder fulla in the house.
The third album from this central Australian country singer/songwriter and CAAMA senior broadcaster, Where My Heart Is showcases Warren's sure touch with lyrics and melody. On it he sings about the love he has for his family and his respect for culture and homeland.
"I was so proud when I received my award in front of what I regard as the cream of Aboriginal music," recalls Warren. "For me it just doesn't get any better than that."
And it was a doubly special night for the Williams family, with Warren's father Gus later being honoured with a Deadly for Outstanding Contribution to Aboriginal Music.
Hailing from Ntaria, west of Alice Springs, Warren first took to music at the age of six, following his father's example.
"Dad is responsible for getting me into music. I remember learning so much off him and I really enjoyed playing in his band as a teenager."
Warren's career has seen a number of highlights over the years, from his many performances alongside his father to star performances at the ARIAs. And who could forget "Raining in the Rock", which he performed with John Williamson in front of 6,000 fans at Tamworth's Country Music Awards in 1998, leading to a standing ovation and turning Warren into a national folk hero?
But there's one event that holds more significance to Warren's heart than any other.
"It's the Deadlys that are extra special to me," he says. "You only have to ask any other Aboriginal or Torres Strait Islander person who has performed at one. The feeling that you get gaining recognition from your people is just amazing."
It's appropriate that Warren should receive acclaim for his music. After all, he's been promoting Aboriginal country music on CAAMA Radio for quite some time now. Be sure to check his show on Tuesday and Thursday nights, which he broadcasts in Arrernte.
Alice Springs-based musician and disc jockey Warren Williams is up for four awards this year, hot on the heels of a Deadly in 2001 for Album Release of the Year.
A proud Arrernte man, Warren is from Ntaria, or Hermannsburg, situated about 120km west of Alice Springs. He first took to music at the age of six, following the example of his father, the legendary Gus Williams AO.
Warren has performed at the ARIAs and in 1998 sung "Raining in the Rock" with John Williamson in front of 6,000 fans at Tamworth's Country Music Awards. The performance led to a standing ovation and turned Warren into a national folk hero. The song went on to win Warren and John a Deadly, and the pair have continued to record together.
Warren is based in Alice where he is a regular DJ spinning all his favourite country tunes on CAAMA Radio. His third album, Where My Heart Is, won a 2001 Deadly for Album Release of the Year.
Warren has just finished a nationwide tour to promote his fourth album, Places In Between.