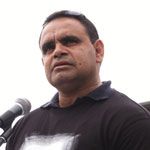 Long Walks Again
Deadly Vibe Issue 117, November 2006
A journey of a thousand miles begins with a single step.
Back in November 2004, AFL Legend and Aboriginal activist Michael Long set out to walk from his home in Melbourne to Canberra. Fed up with the lack of action being taken to address the plight of his people, Michael was determined to speak with Prime Minister John Howard in Canberra. Along the way he was joined by many Indigenous and non-Indigenous supporters, and his actions became international news.
What began as one man's desperation became a statement of strength, leadership and inspiration. It was a step towards uniting all Australians.
In December 2005, over 10,000 people joined Michael, Indigenous Elders, community leaders, sporting heroes, musicians and media celebrities to show support for the objectives of The Long Walk.
The Long Walk is now a national institution. It will be held once again this year, with the aim of uniting all Australians in the hope of building a better future.
The Long Walk 2006 will be held on Sunday, December 3, with participants gathering at Junction Oval, St Kilda, before walking together around Albert Park Lake. All money raised will be donated to the Sir Douglas Nicholls Fellowship for Indigenous Leadership, a charity dedicated to supporting great emerging Indigenous leaders, and improving the lives of all through those leaders' community projects.
To recognise the role that Indigenous women have played over the years in providing strength, compassion, direction and wisdom within communities, special inaugural Long Walk Women's Luncheon will be held in Geelong, Melbourne prior to the Long Walk. The aim of the luncheon is to demonstrate the importance of future Indigenous women leadership, and also to assist in the importance of unity with in our community.
Special guests will include Indigenous women who have made a difference in both Indigenous and non-Indigenous communities, including community and business leaders, sportswomen, musicians and actors.
A special Long Walk Schools Program has also been launched, to encourage school children, with their teachers, to break down the barriers through conversation and action within their own communities. The aim of the program is to help the community move towards tolerance and understanding, and to highlight the importance of role models, leadership and recognition of all cultures and races.
To register or to buy a Long Walk T-Shirt, head to www.thelongwalk.com.au
To find out more about the Schools Program, or to get involved, head to www.thelongwalk.com.au/ schoolcentre.cfm