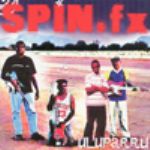 >Deadly Vibe Issue 72 February 2003
A number of quality bands have cut their musical teeth in the desert area of central Australia: just think Lajamanu Teenage Band, Warren H Williams and Frank Yamma, to name a few. Many of their recordings have found their way to music enthusiasts' hi-fi systems around the country.
Another band hailing from the Papunya community, a remote Aboriginal area 200km west of Alice Springs, has just emerged and they, too, are hoping to have their music heard.
Their name is Spin.fx and last September they released their debut album Uluparru, which is the name given to the main watering hole outside Papunya, located in the ranges that run all the way to Alice Springs.
"All the songs on the album are originals and the lyrics describe life in the bush outside Alice Springs and living in a remote area. Most of them are sung in Warlpiri and Luritja language", says band leader, Amos Egan.
Spin.fx was formed by Amos (vocals/lead guitar) and Stanley Roberts (vocals/guitar), both from the Tanami Desert region and Walpiri nation lands. The band also includes Jason Butcher on drums and Abraham Phillipus on bass.
Amos and Stanley first met in 1987 while at Yirara College boarding school and discovered they had compatible musical interests. "We played in the school band and at local schools and town halls for about two or three years and also at the Alice Springs Festival in 1987 and 1988," says Amos.
The pair continued playing together on the local scene for nine years, and jammed regularly. Anyone who wanted to sit in was welcome to do so. One night in 1997, two 14-year-old boys who were attending Papunya school at the time, Jason and Abraham, fronted up and immediately hit it off with the pair. And so the seed to form a band was planted.
All that was needed now was a name. Amos explains: "We were all in the bush one day cooking a kangaroo we had caught after a hunting trip and were sitting around wondering about a name for the band. Abraham mentioned Spin.fx and we all agreed this would be the band's name."
Why Spin.fx? Well, it was inspired by the large amount of spinifex that grows in the region they live in. "We decided to change the spelling of the word as the traditional spelling is a bit boring and we wanted something that was original and ours," says Amos.
The album was launched at the CAAMA (Central Australia Aboriginal Media Association) music studios in August last year. It hit the shelves a month later and, since then, the album has been in huge demand, according to Gillian Harrison, music manager for the CAAMA Media Group.
"Uluparru has been topping CAAMA Shop's best-seller list consistently for the past three months. They are also receiving extensive airplay on CAAMA Radio 8 KIN FM and we are receiving many requests for their songs", she says.
Spin.fx combines elements of reggae, country, rock and blues with traditional sounds. They perfected their sound by performing throughout the Northern Territory, until they finally put their music on record.
"Since releasing the album the band has been busy organising gigs for themselves, often travelling hundreds of kilometres to play at remote Aboriginal communities such as Ali Curung in the Barkly region and Ernabella in the Pitjantjatjara lands in South Australia," says Gillian.
"I took the album to the Worldwide Music Expo (WOMEX) in Germany last year and distributed it for airplay in the world music scene to music radio programmers from Spain, UK, France and Germany who were interested in Aboriginal music," says Gillian.
Spin.fx, a relatively young band, are relishing the chance to tour and perform so that they can develop their skills. Amos is the eldest member of the band at 27, Stanley is 25 and Abraham and Jason are both only 19.
Jason is the son of guitarist Sammy Butcher, a founding member of the Aboriginal supergroup the Warumpi Band, who also came from Papunya.
Spin.fx also featured on the soundtrack of the first Bush Mechanics, an entertaining documentary series produced by the Warlpiri Media Association in Yuendumu, about surviving in the bush when you have car troubles.
"I was asked by Warlpiri Media technical director, Donovan Rice, if we could contribute a song for the soundtrack, which we were happy to do", said Amos. "We named it Mutukayi, which is the name for a fancy car in our language."
As for the future, Amos and the boys know it will take a lot of hard work and a bit of luck to reach the heights to which they aspire.
"We would definitely like to make more records and play the big venues in the big smoke for sure. It won't be easy but we'll work hard and do our very best. We are a young band and have time on our side", says Amos.
Is it possible we could see another desert band as the headline act in a major city one day?
If their first musical offering is any indication, it's a distinct possibility!