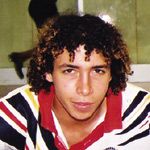 Deadly Vibe Issue 86 April, 2004
The NAISDA dance college in Sydney has become famous for nurturing and producing talented Indigenous dancers and performers, earning it a recognised and respected position within the Indigenous and broader arts community.
Each year, a host of aspiring young Indigenous dancers make their way to NAISDA hoping to follow in the footsteps of people such as Frances Rings, Stephen Page, Christine Anu and Albert David – all former NAISDA graduates who have gone on to achieve great things. There are also many more exceptional graduates, such as Timothy Bishop, who leave NAISDA to become part of the world-famous Bangarra Dance Theatre.
Recently, Deadly Vibe caught up with one of the new breed of students at NAISDA – a promising young dancer by the name of Sean Carter.
Originally from Darwin, Sean spent 10 years living in Canberra before making the move to Sydney last year after his successful audition for NAISDA. The auditions were held in December and lasted for two weeks. For Sean, who comes from a very traditional dancing background, the whole process was an unfamiliar but welcome experience.
"My aunty Dorathea Randall in Canberra had a lot to do with pointing me towards going to NAISDA and she was one of the founding members and dancers at NAISDA herself," says Sean, who's 23.
"I have had it in my head since I was about 16. And after a few years of working in the public service, I realised that it just wasn't for me and it was time for me to follow my heart."
Sean's love of dancing flows straight from his strong sense and appreciation of culture. His talent for traditional dancing alone would not be enough to earn him a spot at NAISDA, however, and during the two-week auditions he also had to become familiar with tap, jazz and ballet.
"I love doing traditional because that's what I'm good at but by far the most challenging has definitely been ballet," says Sean.
"At the end of the two weeks, we each had to do a solo performance in front of three teachers, which was really nerve-racking."
In the end, all the hard work paid off and Sean joined the group of 28 dancers who were selected out of the original group of 42 to join NAISDA in 2004.
"Since being here, I'm just amazed at what a positive place it is," says Sean.
"I've realised just how helpful NAISDA can be in opening up opportunities in all kinds of fields to do with the arts."
In fact, Sean found out first-hand just how beneficial studying at NAISDA can be when he was selected by NSW's Roads and Traffic Authority to play a major part in a safe driving campaign to be shot in Dubbo after the RTA went to NAISDA to cast its ad.
"I feel very lucky to be here. And getting to work and be taught by some really respected performers just makes you want to try harder and persevere even more," says Sean.
Apart from meeting and learning under some great people at NAISDA, Sean says that a personal highlight has been taking part in a performance for the Redfern community. It was something Sean was very proud to be part of, having always placed great importance on culture and community.
"One of the most important things that I've learned in my short time here is that tomorrow is never promised and that you have to take everything that you can," says Sean.
"I'm here because I love the feeling of performing. You put in a lot of time, sometimes weeks, just for a performance that may only go a few minutes, so it can be really rewarding.
"You have to constantly watch what you eat and stretch a lot – that's what most people don't realise, the amount of stretching that dancers need to do and the importance of it.
"It takes a while getting used to it and I was pretty sore to start off with."
Now with that big first hurdle behind him, Sean is looking forward to an exciting and promising career. Some day, he may join the ranks of Christine Anu or Frances Rings as a NAISDA graduate who rises to become a major star.
"My goal is to graduate and then travel to dance or teach," says Sean.
"I want to be able to pass on traditional knowledge to school kids who don't get an opportunity to experience culture."
What's your name?
Sean Terence Carter.
When were you born?
February 16, 1981.
Where were you born?
Darwin.
Where is home?
Sydney.
Do you have any brothers or sisters?
Two brothers and two sisters.
If you could go anywhere in Australia where would you go?
The beach.
Do you have a nick name?
Custa.
Who was the first dancer who really inspired you?
Uncle Lewis Langton.
How old were you when you started dancing?
14.
If you could perform anywhere in the world, where would it be?
New York.
What's a funny experience you have had while dancing?
Having to hold up my naga from falling down with one hand while performing.
What's your favourite song at the moment?
Lucifer by Jay-Z.
Who is your favourite musician or band?
Ben Harper.
What animal are you most like?
A monkey.
What was the last movie you saw?
Jeepers Creepers 2
What's your favourite movie?
Pulp Fiction
If you could have anything written on a T-shirt that you had to wear for the rest of your life, what would it be?
Deadly
If you were going to a fancy dress party, what would you go as?
Dracula
What do you do on your day off?
Cruise around and see friends.
Name a song that most describes you?
Dangerous by Michael Jackson
What has been the most fulfilling experience of your dancing career so far?
Dancing at Yeperenye.
(Story 1/4/2004 end.)