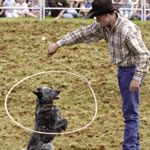 Deadly Vibe Issue 96 February 2005
Fair Crack of the Whip!
This fella could whip you with one hand tied behind his back " literally
Russell Adcock first picked up a stock whip when he was only four years old, inspired by his grandfather, champion whip-cracker Besley Murray.
"I used to pinch my grandfather's whip to practice with," Russell says. "Eventually he ended up buying me one of my own."
By the time he was six, Russell was entering in whip cracking competitions, and by the age of 10 he was the juvenile Australian champion. This was despite the fact that he had been born with severe arthritis in his hands and feet.
"I've pretty much grown out of it now," he says. "But I reckon it'll come back when I get older!"
Russell went on to win another juvenile and a junior championship before deciding to give competition a break.
"I realised that I got more enjoyment out of giving demonstrations and teaching," he says.
Some of Russell's highlights include getting the chance to perform at the Sydney Olympic opening ceremony and the opening of the R.M Williams Outback Heritage museum.
"I also got sponsored to travel with my grandfather to the Calgary Stampede in Canada, which was an amazing experience."
Russell also regularly performs at country festivals and other events around the country, wowing crowds with his selection of tricks.
"I might start with one whip, then two, cracking them around my body," he explains. "Then I move on to the harder stuff."
This includes standing on horseback while cracking the whip, and enlisting the services of his Blue Heeler Buddy, who sits up and begs as his master wields his whip around him.
"I can get Buddy to sit with a piece of paper in his mouth that I use my whip to crack out," Russell says. "That's always a crowd pleaser!"
This 23-year old descendant of the Wamba Wamba people of the Swan Hill district in Victoria is obviously a high achiever, winning more awards than you could . . . well . . . crack a whip at.
In 1994 he was named both the Victorian and the Australian Aboriginal Youth of the Year, and in 2000 he was runner up to Ian Thorpe in 2000 Young Australian of the Year awards, receiving an outstanding achievement.
"That was a real honour," Russell says with pride. "I was nominated by the people of my home town (Balranald Shire, approximately 910 kilometres west of Sydney), which meant a lot."
He has also been a finalist in the 2001 Aboriginal and Torres Strait Islander Student of the Year awards and won Young Koori Apprentice of the Year in 2000 during his butchery apprenticeship.
Russell is currently working as a horse-breaker in Romsey, Victoria. In his spare time, when he's not whip-cracking, he also enjoys rodeo riding.
So what would an aspiring young whip-cracker need to get cracking?
"First you need yourself a good whip," Russell advises. "The best ones are made out of kangaroo hide.
"Then you need to learn how to perform a basic crack in both your right and your left hands. Once you can do that, you're on your way."
So what are you waiting for? Get cracking!
(story 1/2/2005 end)