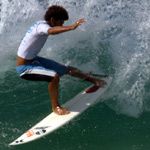 Deadly Vibe Issue 85 March, 2004
Gold Coast surfer Rory Togo is one focused fella who takes his training seriously – although on the day Deadly Vibe caught up with him, he was breaking his tough regime to have a celebration.
We happened to call on the day the Kirra Beach resident turned 20, and after having an afternoon surf, Rory was planning "a BBQ and a few beers" with mates to celebrate the milestone.
Rory, a shortboard rider, is competing on the junior circuit. The highlight of his surfing career so far is his win in the junior division of the Quiksilver Oceania Surfing Cup in Tonga in 2002.
"It was amazing in Tonga – it was just a lot of fun," Rory says. "The Tongans are really, really friendly people. I went there a week before everybody else to get a bit of a feel for the place – maybe that's why I did so well."
It was a close battle with New Zealand surfer Che Whittaker – one observer at Ha'atafu Beach wrote that "both young surfers showed style and maturity beyond their years, with very polished performances". However, Rory was lucky enough to find longer rides throughout the final, which allowed him to cut loose and impress the judges.
In that same year, Rory placed fifth in the Billabong Junior at Burleigh. In 1999, at the tender age of 15, he took out the Billabong Indigenous Junior title.
Rory started surfing at 10, after following his older brother Nathan into the surf on a bodyboard when he was eight or nine.
"We used to live on the beach so we were always going to the beach," says Rory. "One thing I like about the sport of surfing is that it's a 'different' sport. You know it's going to be different every day and that every wave is different – every surf is going to be different. It's not like running around the same track or swimming laps in the same pool."
It was different all right the day his surfboard ended up going through his lip. "I pulled into a big close-out – it was a stupid way to go. I was getting washed around and felt something pierce the bottom of my jaw – the nose of my board had snapped off in my lip. I could reach into the hole and pull fibreglass out!
" I got 13 stitches – seven on the outside and six on the inside – but the doctor did a good job. However, my mum was pretty shocked when she saw me with a gash in my face!"
Rory, who says his local area has his favourite waves anywhere in the world, also has great fun surfing with his friends.
"My mates are the best motivation," he says. "It can get very competitive out there with your mates."
But Rory's surfing mates are also incredibly supportive. At the recent Oceania Surfing Cup in Fingal, about 20 of Rory's mates paddled out into the water near the competition boundary to scream out their support as he surfed his heat.
"It was cool," says Rory, who was a mere 30 to 40 metres away from his mates as he rode the breaks all the way to a close second place, behind Tahitian Hira Terinatoofa.
"In fact, having my friends there was my highlight. I found it relaxing. It was probably distracting to the other guys."
Rory is dead-keen to "go all the way" with his surfing career, yet he maintains a down-to-earth attitude about it all. "If it doesn't come together, I'd still love to do something in the surfing industry, like become a role model for more indigenous surfers," he says. "I aspire to be role model for young indigenous kids."
When Rory isn't surfing or training ("I do a lot of stuff out of the water, like running laps and stretching"), he is at work at the David Fleay Wildlife Park at West Burleigh. There, he sometimes plays the didjeridoo as part of presentations on Indigenous culture.
Rory is also a stepdad to Tahni, the five-year-old daughter of girlfriend Gypsy Holmes, who works as a swimsuit model.
(Story 1/3/2004 end.)
Seven years ago Palm Beach fulla Rory Togo rode his first wave. Since then he's gone from strength to strength, proving he's got what it takes to make it on the professional circuit. And while he's only been competing for four years, he's managed to place in the top 10 of every event he's entered.
"I sort of got into surfing through my brother," says the 17 year old. "We live close to the beach and he was really into bodyboarding, so I got into that and then progressed to the shortboard."
His natural ability on the board encouraged him to start entering in local comps, just like his schoolmates were doing. In his first year of competitive surfing he took out first place in the Billabong Indigenous Surf Classic.
The following year he placed in the top five of every competition he entered. He was also chosen to be part of the South Coast Regional Team, the Gold Coast Junior Surfing Team, and the Indigenous Surfing Team that travelled to Fiji to compete in the World Indigenous Surfing Challenge.
"It was so amazing to be around so many Indigenous people," recalls Rory. "There were people from Samoa, New Zealand, Tonga, Hawaii and all over the Pacific. And the surf was awesome! What made it even better was that I came third in my division."
But don't think that Rory just jumps on his board and goes for it. The preparation he goes through before entering a competition is gruelling.

"You have to find a way of staying really focused. It's kind of weird because you have to block everything else out of your mind and just concentrate on winning."
Rory throws himself into some pretty intensive training, including drills and longer workouts. He likes to focus on making sure he doesn't "lose it out there", while at the same time maintaining peak physical condition.
"Add to that the fact that you have to pick the right wave and surf it the best that you can and it's a real challenge. But I love it!"
Rory now has his sights firmly set on turning professional.
"I'm part of the Junior Pro Circuit at the moment and I'm definitely going to follow that up by taking part in the World Qualifying Series. You've got to get in the top 15 and then you can turn professional."
With idols such as Rob Machado and local Mick Fanning to draw inspiration from, you can be sure that Rory is going to be surfing a lot more than just local waves in the near future.