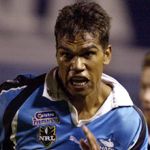 Ronald Prince is just as capable of hitting a cricket ball for six, driving a golf ball way down the course, or even smashing a backhander on the tennis court as he is beating defenders, making big tackles and scoring tries on the football field for the Cronulla Sharks.
Now in his second year of first-grade NRL, Ronald is showing big improvements from last season and is spending more time on the paddock as a result.
"I was a bit unlucky last year as I only played two first-grade games, says Ronald."
"But this year I have been given a starting spot on the wing and am going to do everything possible to keep my spot."
Ronald is proving to be one of the most exciting outside backs in the game, with a dynamic running style and electrifying pace that has made him one of the Sharks' top try scorers this year.
Hailing from the small town of Mungindi, in northwest New South Wales, Ronald played junior football with his three brothers.
"I played for the Mungindi Grasshoppers, who are a champion club. My brothers still play in Mungindi and it's good to get back and see them when I get the chance."
It wasn't long before word had spread about the enormous amount of talent young Ronald was showing.
Leaving his hometown as an 18 year old, Ronald went in search of bigger things, linking up with the Sydney City Roosters where he played in the junior divisions. Ronald knew it wouldn't be long before he would be playing first grade, just like his boyhood idols Terry Lamb and Wally Lewis.
Ronald comes from a family of 12 kids (eight sisters and four brothers) all of whom are proud of their brothers achievements, Who knows, if Ronald keeps up his great form he may even find himself wearing a Blue's jumper when the State of Origin kicks off in May.
Currently living in Sydney, Ronald sure has a busy schedule, starting off his day with a big days work at Australia Post in Botany. Ronald then grabs his footy bag and is off to Shark Park for training which includes sprints, weights, fitness sessions and team runs for up to three hours!
Vibe congratulates Ronald on all his achievements and wishes him well for the future.