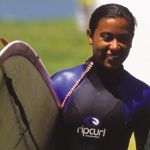 Deadly Vibe Issue 85 March, 2004
Since bursting onto the Australian surfing circuit with a splash, Melissa Combo has remained one of the nation's elite longboarders.
Hailing from the NSW North Coast town of Ballina, Melissa began surfing at 13 and by 18 was crowned champion at the open women's division at the Billabong Indigenous Surf Classic in Fingal.
Although Melissa missed her heat at the recent Fingal Indigenous surfing competition, she has a great excuse for having her mind on other things – she's expecting her first child in July.
"I'm taking a bit of a break from surfing at the moment," says Melissa, "but after the baby I'll be straight back into competition. I'll try to surf as much as I can and take it from there."
Melissa, 21, says that she still gets down to the surf every day. And after finishing fifth at the world championships in Costa Rica last year, she can't wait to get back on the world stage and go one step further – but it will most likely be in 2005.
More recently, Melissa has just come off a five-month surfing tour of the United States, Mexico, New Zealand and Hawaii.
While she may be putting the surfing on hold for the time being, her reputation as one of Australia's top female longboarders is only improving and her line of sponsors continues to grow. She currently boasts a swag of sponsors, from Hawaiian Pro Designs to Vintage Fin Systems and more.
(Story 1/3/2004 end.)
What A Deadly Combo!
When it comes to Indigenous surfing, things don't get much deadlier than Melissa Anne Combo.
Born on 2 July 1982, Melissa grew up in Ballina on New South Wales' north coast, where she dabbled in a number of sports including netball, basketball, touch football and rugby union.
But it was surfing that Melissa really took to – like a fish to water, really – when she was just 13.
"I always used to watch my dad surf when I was a kid," says Melissa. "Then one day my dad borrowed a friend's longboard and let me have a go. I had so much fun I didn't want to get off!
"I've always had a strong bond with the ocean, as I started doing Nippers when I was nine years old," she continues. "My dad made me a surfboard soon after and I've been surfing ever since."
And how! Melissa is Australia's premier Indigenous female surfer. This year, she won the open women's division of the Billabong Indigenous Surf Classic in Fingal. She also managed an impressive fourth place in the men's and women's combined longboard division, beating many of her male co-competitors. Not bad for an 18 year old.
We asked Melissa how it felt to win in Fingal. "It felt super duper, dude!" And what about beating the likes of Kyle and Josh Slabb on the longboard? "I didn't really take any notice that I was competing against all the guys," she laughs. "I just concentrated on my own surfing."
As if that wasn't enough, Melissa again showed her prowess by taking out the Lennox Head Longboarding Classic in August. Way to go!
Thanks to Melissa's superior surfing ability, she has managed to pick up a handful of sponsors. "Without their help, I would find it very difficult to enter in as many competitions as I do," she says.
Melissa's sponsors include Retro Longboards (who supply Melissa with surfboards, covers and leg ropes), Feisty Girl (surf clothing), O'Fishyl Fins, Beachlife and Surf Aids (surf accessories).
So what are Melissa's long-term goals?
"My main goal is to be number one in the world," she says with her characteristic confidence. "I will be competing in Hawaii, California and Costa Rica next year for the World Longboarding Championships and I hope to do really well."
We wish Melissa Combo all the best in her quest for surfing glory.

Deadly Vibe Issue 58
Melissa Combo started surfing in 1994 when she was just 13 years old. Now a very grown-up and glamorous 19, Melissa can lay claim to being Australia's best Indigenous female surfer after coming fifth at the World Longboard Championships in Costa Rica earlier this year.
Melissa started surfing by watching her father, Lee Combo, and his mates out on the swells. Then one day her dad borrowed a friend's longboard so Melissa could have a go. "I had so much fun I didn't want to get off!" she says.
She has stuck with the malibu, preferring it to the shortboard because it's easier to ride and "not so crazy". Her ultimate goal is to be the number one longboarder in the world, and what with the way she's going, that won't be too far off.
We asked Melissa how she feels about being a female surfer in a predominantly male surf culture. "We get away with a lot more," she laughs. "The boys let us have the waves."
Melissa's plans for 2002 are to focus, train hard and then go back on tour. She already has a raft of sponsors including Hobie, O'Fishl and Finch, and is on the verge of signing with a big-name brand, but at the moment Melissa's lips are sealed.
When Melissa is not surfing she works at the Bay Leaf Café at Coolangatta and enjoys hanging out with her friends. Her favourite sport to surf in Australia is along the south coast of New South Wales.
And her ultimate surfing spot? "A deserted island that nobody knows about but me. That way I could get away from everything and just surf!"
Lastly, what advice can she give young Aboriginal female surfers? "Just get out and do it!"
Enough said.

Deadly Vibe Issue 70 December 2002
Since we last profiled Melissa Combo, the Bundjalung woman from Ballina has surfed some of the best-known spots in the world, including Boca Barranca in Costa Rica for the Women's World Longboard Championships.
Although she came a very credible fifth, the 20-year-old surfer is a little disappointed with her result.
"I was hoping to beat last year's ranking, but coming fifth again was still good," says Melissa. "You're competing against the best in the world, so just being there was great. I was also less nervous than last year, which was pretty nerve-racking because it was my first time."
Mind you, the conditions didn't make for an easy competition.
"This year was a bit harder because there were no waves and the surf was inconsistent," she says. "For each heat there would be four girls out there on the wave, so you had to hustle heaps to keep your position."
After all that hustling, Melissa took time out to relax and do what she loves best " surf and travel the world.
"I surfed with a lot of the women pro longboarders in California, and in Hawaii I got to see my favourite surfer Bonga Perkins surf. I was pretty excited about watching him and all the other big names there."
Hawaii has a reputation for huge surf and unique conditions. After her recent pilgrimage, Melissa can appreciate why many regard it as surf's Mecca.
"I surfed at a place called Alamoana in Hawaii, which would have to be the best place I've ever surfed. In Hawaii the surf's really different " it's all reef. It's pretty dangerous and you've got to make sure you land the right way when you fall off your board or you can get cut up. But the waves are great, like Australian waves but with reefs."
Even though Hawaii can be dangerous, it's not the scariest place Melissa has ever surfed.
"That was at a spot in Western Australia, where the waves were just getting bigger and bigger, jumping from 10 feet to 12 feet. I had to paddle the whitewash so I could stand up on my surfboard, jump in the air and then dive under the water and hang on to the reef. I'd wait there for about 20 seconds, then come up for air and get ready for the other waves to come through. I had to keep that up for about 30 minutes and I thought I was going to die."
Did the experience make her think about quitting surfing altogether?
"No way! If anything, it's given me more confidence. Now when I get waves that are six or eight foot, I realise they're no problem. It's paid off because surfing is all about having confidence, not worrying about anyone else and just enjoying every little moment."