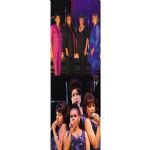 Deadly Vibe Issue 97 March 2005
Sapphires shine on
The real gems that sparkle behind the musical hit The Sapphires.
The recent hit musical, The Sapphires, starring Deborah Mailman, Rachael Maza, Lisa Flanagan and Ursula Yovich, tells the story of four talented young sisters from country Victoria who dream of stardom.
Their Motown singing sister act are discovered at a St Kilda nightclub by an enterprising young agent, who invites them to tour war-torn Vietnam to perform for the troops.
This hugely successful play is actually based on a true life story " one that's warmth and humour shines as brightly as the sparkling gowns the singing sisters wear on stage.
The play was written by Tony Briggs, whose mother Laurel Robinson was one of the original Sapphires. Tony was a tiny one year old when his mother travelled to Vietnam, and he only learned of her experiences when he was 32.
"She mentioned it in passing, and I guess I didn't think that much of it at the time," Tony says. "But as the week progressed, I found that I just couldn't get it out of my head. So I went back and got mum to sit down and tell me all about it."
Tony, an accomplished actor who has appeared in such productions such as Australian Rules, Stolen and Yanagai Yanagai, had been seriously considering writing a play for some time. He just wasn't sure what he wanted to write about " until now.
He approached the Melbourne Theatre Company with the outline of the story, and it caught the attention of the artistic director, who commissioned Tony to write the play in 2002. Two years and four rewrites later, it has become a hugely successful stage show that has sold out theatres in Melbourne and Sydney.
The late 1960s was an important time for Aboriginal Australia. Activists were finding their voice, and campaigning for recognition and civil rights reached a new level. There was a spirit of change in the air, which also meant the possibility of adventure.
Laurel Robinson was one such young Aboriginal who was keen to discover new and exciting opportunities. Although she and her sisters had initially declined the offer to tour Vietnam, a year after their original offer Laurel and her sister Lois were asked again and this time said yes. The two of them set off with little, if any, idea of what to expect.
"We weren't really nervous " more excited about the opportunity in front of us," Laurel says. "We knew very little about Vietnam, only what we had seen in the news."
The girls were travelling as part of a group of entertainers, and spent three months touring across Vietnam to play for the troops.
"There wasn't any real problem with us being Aboriginal, despite the racism still present in Australia," Laurel admits. "All the men were really responsive and appreciative of our act " and they were so happy to see females!"
At times they were fairly close to the action, but never felt afraid or threatened.
"We were always based at a safe distance, and were guarded at all times," Laurel says. "What stood out the most for us was how much fun we were having! We made some really great friends. Oh, and the heat " it was really hot."
Tony was intrigued not just by the story itself " he also found the personalities of the Sapphires to be something worth exploring.
"Although the story is only loosely based on truth, the personalities of the characters are quite spot on," he says. "Although it's more that the characters are drawn from a lot of different personalities " mum came from a huge family."
Laurel and her sisters have all seen the show several times, and believe it to be "magnificent".
"I'm really proud of Tony for creating such a wonderful production," Laurel says.
Tony is also delighted by the success of his play, which completed its Sydney run at the Belvoir Street Theatre on Sunday, February 20. He even had a chance to appear in it, standing in as one of the main characters for the show's final weeks.
"It's incredibly high energy," he says, "but it is so amazing to be performing in something that I've written. It's so much fun, and when the audience gets into it you feel even more inspired."
Although Laurel and Lois' professional singing careers drew to an end after their tour of Vietnam, the sisters have continued to sing together at family and special occasions.
"We still get up to perform at cabarets and such, as well as at family functions," Laurel says. "We also seem to be singing at funerals a lot these days."
Laurel and her sisters Beverly and Naomi now all work at the Redfern Aboriginal Medical Service, while Lois runs Aboriginal Tourism Australia.
"I've been working here for about 30 years," Laurel says. "And Naomi is the CEO."
Although Laurel speaks fondly of her days in Vietnam, she doesn't believe that the experience particularly changed her as a person.
"I guess it made me more aware of wars," she says. "But when it was all over, we just wanted to go home to our families. That's the most important thing, isn't it?"
(story 1/3/2005 end)