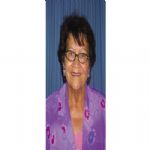 May O'Brien was the special guest at a Deadly Mura mentoring day at St Clare's and St Edmund's Colleges in Canberra recently.
The Deadly Mura Mentoring Program, which is funded by the Department of Education, Science and Training, is one of several programs taking place in schools around Australia.
Indigenous students of St Clare's and St Edmund's, which are across the road from each other, come together on Friday afternoons from 1.30pm-3.30pm to meet mentors, undertake activities and hear special guest speakers such as May, who has devoted her life to improving educational opportunities for Indigenous people.
Deadly Mura co-ordinator Jenny Brown, from the Catholic Education Office, said the 20-week program kicked off last year and has continued through Term One of this year.
"May came and talked about her life, how she grew up and how she went through school," Jenny said. "She spoke about how opportunities are different these days to when she went to school," Jenny said.
"She reminded the kids that Indigenous people are proud of students going through school now.
"It was a really good session and some of the kids asked her to explain more about some of the stories she told."
Students then break into small groups to respond to the talk in that week's focus art style – one week it might be cartooning, another week it might be contemporary Aboriginal art. Or they might respond by writing a poem or short story.
At the end of the Deadly Mura program, all students who took part will have a portfolio of creative work that has been inspired by role models such as May. There are plans to collate the students' art work into a book some time later this year.
But in the meantime, we're sure May didn't forget her visit to Canberra. From what we hear, it poured with rain on the day of her visit, and she got drenched! What a trouper.