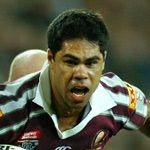 MATT SING – NORTH QUEENSLAND COWBOYS (EX-SYDNEY ROOSTERS) 2002
With loads of experience under his belt, Matt has figured prominently in the toughest rugby league competition in the world, State of Origin. He is a true speedster with a great swerve and a good fend, and he can make any defensive line look very ordinary indeed. He is also capable of pulling off amazing try-saving tackles. Returning to the state in which he first played football, the Cowboys should be able to expect big things from Sing this season.
Deadly Vibe Issue 80, 2003
At 28, most footy players are winding down in their careers. Not winger Matt Sing, who is suddenly back in top form.
STORY: Matt Sing is quiet off the field but when on it he likes to lead by example. In football, actions speak louder than words and in 2003 Matt's game spoke volumes.
"As well as the three good years I had at the Roosters, this year has definitely been one of my best seasons," says Matt. "At different stages of the year, I think I was probably in some of the best form of my career. It built up slowly and then went a little flat towards the end of the season, but overall it was a good season."
While he is typically modest in his choice of adjectives to describe his performance this year, a more fitting observation would be to say that 2003 marked somewhat of a renaissance in the football career of Matt Sing. Maybe it's got something to do with the North Queensland tropical air? Since his move to the far north last season, a rejuvenated Matt Sing, at 28, is finding himself playing some of the best football of his career.
Matt made the move to Townsville to join the struggling Cowboys in 2002 and, at the time, some critics may have expected him to slowly fall off the football radar. Since his move north, however, the Cowboys have continually improved, and Matt is now a driving force behind the Cowboys' move up the NRL ladder. The club has undergone an amazing transformation, turning from cellar-dwelling easy-beats into genuinely feared underdogs of the league.
"I think the attitude of the whole club has been a key to our success this year " that, as well as the new coaching staff," says Matt. "We also got some new forwards this season, like Paul Rauhihi and Kevin Campion, who helped turn things around for us. We already had a good backline – we just lacked some impact in the forwards and those guys have made a big difference this season."
While Matt is quick to sing the praises of team-mates, at the same time he sidesteps the topic of his own scintillating form this year, which was perhaps the major catalyst to his team's on-field success. Perhaps that's because the re-emergence of Matt Sing as the premier winger in the country, over other notable names such as Timana Tahu and Michael De Vere, was a surprise even to himself.
"I never expected to be playing rep football again. I thought those days were over and so I wasn't expecting it at all," says Matt. "Coming into the season, I was only thinking about playing for my club and helping the Cowboys improve – I wasn't worrying about rep football at all."
Not only did Matt make an unexpected return to representative ranks, he went on to play some of his finest football on the game's biggest stage, being one of Queensland's top performers throughout the Origin series and scoring three tries in game three, paving the way for a much deserved call-up for the Australian team.
It wasn't only a memorable year for on-field achievements in Matt's life. His proudest moment came with the birth of his son Kalani. Perhaps Kalani can take much of the credit for Matt's magical season?
"It makes life a lot more exciting and gives me something to look forward to every day," says Matt. "Having a happy lifestyle reflects on your game and helps you play good football."
This season ended with the Cowboys in an unfamiliar but satisfying position of looking towards the 2004 season with confidence and new expectations. Now that the Cowboys have shown how well they can play, the pressure will be on for them to better their breakthrough season.
Matt is seen as one of the senior players in the side, and he knows what it takes to win.
"We need to improve generally, in both attack and defence, and just improve our basic game," says Matt. "It was little things that let us down this year. We lost a lot of close games through silly mistakes, games that we could have won and would have moved us into the top eight.
"Everyone at the club is pretty confident that we will be able to build on this season for next year. The coaching staff had implemented a three-year plan at the time I came to the club, and it looks like we are on track."
As for Matt's plans?
"My aim is to keep playing well and help the club as much as I can," Matt says. "Next season is the final year of my current contract and I feel like this is the place where I want to finish my career."