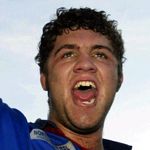 >Deadly Vibe Issue 74
Matthew Hodgson's football career started while he was still at high school. As a student of St Edward's Catholic School in Gosford, he played both league and union, and he was selected to play rugby for the New South Wales Combined Catholic Colleges (NSWCCC) while in Years 11 and 12.
Plying his rugby skills on weekends with local club Avoca Sharks, he played first grade at 17 and was selected to play for the NSW Country U/19s and also the U/21s, which culminated in a tour of New Zealand in 1999.
In 2000 he decided to make the trek to Sydney to try out for a spot at the Eastwood Rugby Club and was selected to play in their Colts team.
However, his rapid progress was short-lived.
The flanker/open side breakaway was stopped dead in his tracks the following season when things took a turn for the worse. Matthew broke his ankle and had to have it reconstructed. As a result, he missed the entire 2001 season. "I was absolutely devastated," he says. "During my long sessions of rehab, I often wondered if I would ever get back to where I was before I got injured. But I was always confident that I could and never gave up hope."
He was proved right last year, when he bounced back big-time!
While playing first grade with Eastwood, he was selected in the Australian U/21 team to play in the World Cup in South Africa. "It was a real surprise to me because I didn't think I would make the team," he says. "That experience really helped my game and helped me develop a more professional attitude towards my rugby."
Oozing confidence after returning from South Africa, Matthew played a leading role in helping Eastwood win the Tooheys New Cup " Sydney rugby's first grade competition – and won the club's most outstanding player award.
" Winning the grand final made me very happy and is, at this stage, the highlight of my career," he says.
Yet his rise and rise continues. Matthew was approached to play for the NSW Waratahs in 2003 and has signed a two-year contract. "I was very surprised and excited about it," he says. "To become a full-time professional doing something I love is a dream come true."
In a twinkling, Matthew has gone from his nadir to his zenith, so it would appear that the roller-coaster is still in motion. What a difference a year makes!
What is your full name? Matthew James Hodgson.
How old are you? 21.
Where are you from? Avoca on the NSW Central Coast.
Where's home? North Curl Curl
Were you born there? Hornsby in Sydney.
Are you the oldest, somewhere in the middle, the baby, or an only child? Middle.
What do your friends call you? Hoddo.
What was the first sporting event you ever saw? A game of rugby league.
When did you start playing sport? When I was six years old.
What team do you play for? NSW Waratahs.
What position do you play? Flanker/open side breakaway.
What team did you follow when growing up? North Sydney Bears.
What are your expectations for yourself and/or your team this year? To get a starting spot in the Super 12 (Waratahs) side and for the team to win as many games as possible from here on in and make it to the finals.
If you could form a team with your choice of players, who would they be and what would you call it? A few of the players from today's Waratahs, like Matt Burke, Lotie Toquiri, Matt Rogers, and yesterday's David Campese, etc. I would call them The All-Stars.
What's the funniest thing you've ever done on a sports field? I had an altercation with a touch judge.
What sport do you follow in your spare time? Rugby union and rugby league " basically all sports.
Name a song that most describes who you are. Lost Control by Grinspoon.
What CD do you have in your CD player at the moment? New Detention by Grinspoon.
Who is your favourite Aboriginal or Torres Strait Islander musician? Yothu Yindi.
Most fulfilling experience in your life so far? Winning the Tooheys New grand final last year with Eastwood Rugby Club.
What is your best asset? My car.
What would you most like to change about yourself? Probably to be a bit taller.
Who's real deadly in your eyes? My father, he's one of my big idols.
If you could have anything printed on a T-shirt that you had to wear for the rest of your life, what would it say? " Rock Star", with a big star printed on it.
What's your favourite part of Australia? Avoca on the Central Coast where I grew up.
You're invited to a fancy dress party. Who or what do you go as? Superman.
What animal are you most like? A cheetah.
Make one prediction about 2003? Eastwood to win the grand final again, back to back.
Where do you see yourself in 10 years' time? Hopefully still playing football with Waratahs, if not back with Avoca.