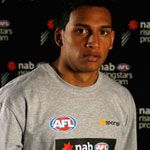 New Sensations
The recent 2007 AFL draft saw a new batch of young Indigenous footballers graduate into the nation's elite football league. Deadly Vibe profiles this year's top Indigenous draftees.
Cyril Rioli
Boasting an enviable footballing pedigree (he is the nephew of AFL legends Maurice Rioli and Michael Long), Cyril Rioli entered the draft with plenty of attention and was widely regarded as the number one Indigenous prospect.
As expected, the Tiwi Islander was the first Indigenous player to be taken in the draft when Hawthorn snapped him up with the 12th pick. Cyril has a family connection to the club – his uncle Willie had previously been drafted by the Hawks in 1990. Hawthorn list manager Chris Pelchen has stated Cyril could be playing senior footy as early as next year.
In 2007, Cyril won All-Australian honours from the National Under 18s Championships and attended the AFL Draft Camp where, among other results, he came third in the repeat 30 metre sprints.
Recruited from the Northern Territory Thunder, Cyril is a classy left-footed forward/midfielder with clean hands, good vision and smartness around goals while also being a strong tackler and great at stoppages.
He is expected to be played as a small forward early in his career, but could turn into an outright midfielder with hard work on his endurance.
Marlon Motlop
Much like fellow Indigenous draftee Cyril Rioli, Marlon Motlop has a very well known footballing surname, with cousins Daniel and Shannon already starring in the AFL. Marlon will now link up with Daniel after being selected by Port Adelaide with the 28th pick in the draft.
An exciting young player who possesses blistering speed, great evasiveness, balance, exquisite skills and footy smarts, Marlon could well turn out to be the steal of the draft for Port.
In 2006, at the Under 16s AFL Championships, Marlon was the recipient of the Alan McLean Medal for the Division Two Best and Fairest and was deemed the Territory's Most Valuable Player. A former AIS/AFL Scholarship holder, Marlon also attended last year's draft camp.
While presently only weighing in at 75kg, Marlon is a genuine blue-chip prospect and, like other members of his family, possesses freakish skills.
AFL talent manager Kevin Sheehan rated Marlon a top-10 prospect a year ago, before his stock dropped following stress fractures in his back, which restricted him to just four games for the Wanderers in Darwin last year. Now fully recovered from the injury, Marlon will be spending plenty of time in the gym this year, aiming to bulk up and secure a place in the Power line up.
Jarrhan Jacky
Possessing plenty of skill and pace, Jarrhan moved from Broome to Perth with his family five years ago and joined Subiaco's Colts team. He was part of the successful WA side at the National Championships last year and finished ninth in the WAFL Colts Larke Medal.
Jarrhan is an explosively quick and agile player with goal-kicking smarts. His impressive showing at WA National Champions improved his draft stock immeasurably and, after eventually being selected by Adelaide with the 30th pick, many would consider him to be a major steal for the club.
The 18 year-old basketballer-turned-footballer could eventually develop into the blistering small forward goal sneak which Adelaide has been in such desperate need for recently.
Tony Armstrong
Tony Armstrong was part of the NSW/ACT Rams team at the national championships and attended the AFL draft camp, finishing 10th overall in the 3km time trial.
Selected by Adelaide with the 58th pick in the draft, Tony has been described by the Crows as having "as good a kick as you will see".
The 18-year-old hails from country NSW but relocated to Victoria where he attended Assumption College and made a couple of appearances with Calder Cannons in the TAC Cup.
A tall and agile, neat-kicking medium-sized defender, he was very impressive for NSW/ACT in their U18 victory over Victoria in September last year.
Clayton Collard
West Australian Clayton Collard represented his state at both the under 16s and under 18s levels before graduating to professional footy with South Fremantle in the WAFL where he kicked 15 goals in nine games.
As a junior player, Clayton distinguished himself as a floating half-forward who won the ball through the midfield and pushed forward to be a scoreboard threat.
One of the most promising players of the 2006 AFL Draft, Clayton was eventually picked by the Dockers with their first selection at no.31. He went on to make his AFL debut with the Dockers against St Kilda in round nine last year.
After being de-listed by the Dockers at the end of last season, Clayton became the first Indigenous player since Des Headland in 1998 to be selected as a number one draft pick when he was scooped up by Richmond in last month's AFL Rookie draft.
Austin Wonaeamirri
A former Northern Territory Most Valuable Player at the under 18s championships, Austin hails from the Tiwi Islands and was drafted by Melbourne in the second round of the Rookie draft at no.19.
Last year, Austin played for Norwood in the SAFL, mostly as a small forward, and impressed with his goal kicking and hard running. He possesses blistering speed, good athletic ability and is also a capable defensive player with a high work rate. Despite only being a small player, Austin has a knack for breaking tackles and provides good forward pressure and as a crumbing forward.
Jarrod Atkinson
After impressing in the VFL with his hard running and creativity across half-back, Bendigo Bombers defender Jarrod Atkinson was drafted by the Essendon Bombers with the 21st pick in the Rookie Draft.
A product of Rumbalara Football Club in Shepparton, Victoria, the 22 year-old who stands at 192 cm and weighs 88 kg has the build to cope with senior footy should a promotion to Essendon's senior list come sooner than expected.
Other Indigenous draftees include:
Jared Petrenko from Adelaide-Woodville and West Torrens who was selected at pick no.25 by the Adelaide Crows
Cruize Garlett from Perth, selected with the 30th pick by the Kangaroos
Calib Mourish picked at no.37 by Fremantle
Darwin product Cameron Stokes selected by Hawthorne with pick no. 54.