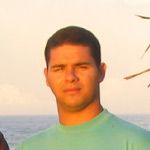 Deadly Vibe Issue 85 March, 2004
Surf champ Lucas Proudfoot has had a lot on his plate lately – as well as competing on the world's longboard surfing circuit, he is also a leading force in the band Max Judo.
And when he's not following his dual passions of music and surfing, Lucas pays the bills by working as a lifeguard at the Gold Coast's Wet'n'Wild theme park four days a week.
The 24-year-old from Cabarita, in northern NSW, says that diverting much of his energy towards music last year made it hard to improve on his world surfing ranking. In fact, following some disappointing results in Europe midway through 2003, he is currently ranked number 18 in the world. He occupied the 13th spot the year before.
"I went to Portugal, Spain and France in June and July, and I took my guitar over as well," Lucas says. "I played some small concerts while I was there, so I was doing two things at once. The waves were very small as well."
His performance at the Oxbow World Titles in New Zealand was far better, even though he snapped his board during a warm-up surf before the first heat and had to borrow boards from mates to complete the competition.
For 2004, Lucas has two goals with his surfing – to contest two events in Europe, and to hopefully score a cover shoot with one of two Australian longboarding magazines, Pacific Longboarder and Australian Longboarding.
(Story 1/3/2004 end.)
Longboard wizard Lucas Proudfoot is catching all the right waves – right around the world. Deadly Vibe hangs ten with a fulla whom we can all be proud of.
To go from having a world ranking of 117 to 17 in under a year is no small feat. Especially when any ranking at all is dependent upon getting yourself overseas to some of the hairiest surfing spots known to man. Then again, longboarder Lucas Proudfoot is not your average surfie (and he doesn't have small feet either).
A Bundjalung/South Sea Islander man from Cabarita, 20km south of the Queensland border, Lucas has had saltwater in his veins ever since he followed his father and uncles into the surf at Lennox Head as a five year old. Now 22, and with only two years of overseas competition under his belt, he's well and truly established himself as a force to be reckoned with.
Taking part in this year's Oxbow World Longboard Championships, Lucas delivered a strong performance at a warm-up event in Spain to come fifth. When competition got underway in Portugal, Brazil and at the legendary Jeffreys Bay in South Africa, his strong technique and flair for style got him through to the third round and his current ranking.
"I'm really stoked, as this was my first year competing in the World Championships," says Lucas. "On the strength of my performance I've been invited to the 3rd Annual Bear Hawaiian Pro Longboard Invitational. Hawaii's a whole different story – it's the Mecca of surfing and I've always wanted to go there."
Paul Holmes of The Bear Partnership is excited about Lucas making his debut at what is regarded as the ultimate testing ground for surfers everywhere. "Lucas was an essential invitee," he says. "He has the style, he rides with more than grace, he has real power in his turns and he's no slouch on the nose, either!"
Lucas puts his incredible rise of late down to focus and training. "Swimming is the key with surfing because you're in the water paddling the whole time. I also do a lot of sprint training, running, boxing, circuit training, skipping, push-ups and chin-ups – basically anything that helps with strength and explosive speed. You don't really need to do endurance training because you're only riding a wave for a minute at the most."
Some financial assistance has also come in handy. Along with his little brother Ben, also a keen longboarder, Lucas has been the recipient of a scholarship from the Australian Sports Commission's Indigenous Sports Program, which he regards as the perfect stepping stone.
"I knew that if I could get a decent result overseas I'd have more to play with in terms of sponsorship next year," he reasons. "I'd been given this chance from the Australian Sports Commission, so it was up to me to see if I could do it. I kicked off with goods results in Spain and the water just kept rolling. Mind you, I'm still learning. I don't mind getting knocked out if I know I've done my best – I don't stamp my foot and peg my board!"
National manager of the Indigenous Sports Program, Glen Brennan, says Lucas and Ben are fantastic young people who have worked hard and deserve everything they get. "It's nice to find people competing at such an elite level who are still so grounded in their own community and their own identity. Even though they trip all over the world, they never forget who they are or where they come from."
The longboard is surfing's old school. Also known as a malibu, the nine-foot board is more flexible than its little brother and, thanks to modern design methods, can be made up to suit just about any rider or condition.
Lucas rode shortboards until four years ago when he found that his heavier build was better suited to a malibu. Now he rides a Munro board courtesy of the Byron Bay manufacturer that also shapes for 2000 world champion Beau Young.
"I weigh about 95kg, so a longboard is easier for me to surf on," he says. "In competition, longboard is judged 50 per cent on traditional manoeuvres like walking the board, riding the nose, hanging five and hanging ten, and 50 per cent on performance, which is more about surfing it like a shortboard. Longboards are great – you can do a big floater, a cutback, a really nice barrel, then walk up and hang over the nose!"
When he's not surfing at Cabarita, Black Rock, Pottsville or any of his other favourite spots, Lucas plays the didj and dances with the Minjungbal Aboriginal Dance Group at Fleays Wildlife Park in Burleigh, and participates in a mentors program at Tweed Heads High School.
"The Indigenous Sports Program has provided about 30 of us sportspeople with training to go out and mentor some of the younger fullas. We help them get a resume together, motivate them to do positive things for themselves, and try to improve their self-confidence and communication skills."
Lucas hopes to see more young fullas taking to the waves in the future. At the recent Queensland Indigenous Sports Awards, he was thrilled to learn that there is now Aboriginal representation in all manner of sports other than the usual – footy and boxing – including netball and ballroom dancing.
"It's good to see more people getting into surfing too," he says. "I think the tide's really turned in the last year or so. Of course there's the Slabb family, who've really focused on building up the Indigenous surfing events. And there are some real young ones about too, like this little blackfulla who lives down the road. He's only 11 or 12 and I don't even know his name, but give him five years and he's going to be huge!"
The future's looking bright for Lucas too. Now boasting sponsorship from French sportswear giant Oxbow, he's planning to compete at all the major international longboarding events in 2002 and improve on that already enviable ranking. But that's only the half of it. As guitarist and vocalist with up-and-coming rockers Max Judo, it looks like there might be a CD in the pipeline too (the band recently recorded a demo in Sydney). "Once I'm out of the water, I like to do other things!" he laughs. "Hopefully we can get some airplay soon."
However, don't think for a minute that Lucas isn't serious about his surfing. He might have broad interests, but he knows what his number one priority is. "My aim is to be world champion someday, but realistically that takes time. You've got to do your apprenticeship first, like learning how to perform on cue in unfamiliar environments – and learning how to sleep for a day and a half in an airport!"
Lucas Proudfoot would like to thank his mum and dad for all the support they have shown him over the years.
The Perfect Surname For Surfing?
"A lot of people think Proudfoot is an Aboriginal or Native American name, but it's actually Scottish. It's kind of a cool name for a surfer, I suppose. When I was in South Africa at the Championships, the organisers were saying to me, 'Can you please friggin' win coz it's like the perfect name!'"
That Ain't No Dolphin!
"Once I was surfing with a mate, coming in on a wave, and he started pointing at something. I looked down and there was this hammerhead coming along the gutter! I surfed right past the stupid thing thinking, 'I'm not falling off me board now!'"
"Lucas Proudfoot is one of those individuals you meet who immediately make an impact on you. He's widely respected by the sporting community and the Australian Sports Commission for his sporting prowess, his ability to communicate to all levels of business and as a very popular ambassador for Australians and surfing in general. He can also do a mean form of nightclub table-top dancing and has one of the funniest wits known to mankind!"
– Jason Blewitt, Operations Manager, Surfing Australia

Deadly Vibe Issue 70 December 2002
Since making the cover of last December's Deadly Vibe, longboarder Lucas Proudfoot has upped his world ranking from 17 to 13.
After a warm-up event in San Sebastian, Spain, 23-year-old Lucas placed tenth in France and ninth in Mexico as part of this year's ASP World Longboard Tour. Even better, the latter event was actually the 11th Oxbow World Longboard Championships held at " where else? """ Cabo San Lucas.
"It's great to finally be in the top 16," says Lucas from his home in Kingscliff, just south of the Queensland border. "That automatically qualifies you for a spot in the world title, so you don't have to surf in all the pre-heats. Plus you're guaranteed dollars at each event."
In addition to Spain, France and Mexico, he visited such far-flung destinations as Costa Rica and Nicaragua, where he experienced all the fun of an earthquake.
"It was like being on a jumping castle. I was sitting at a computer and the keyboard went flying off the desk. It certainly shook my jetlag off! Actually there were five earthquakes while I was there, and there was an active volcano nearby too. But it was worth it for the world-class waves."
Serious about his sport, Lucas once again spent months training for his 10-week tour.
"Aerobic fitness is really important for surfing, but so is upper and lower body strength. I did a lot of swimming, running and of course surfing in preparation for the tour, and it paid off."
It certainly did. In addition to improving his ranking, Lucas placed first in an Expression session in Mexico, where he executed his signature "˜vertical snap'.
Sponsored by Oxbow, Lucas is well and truly continuing to make waves here and abroad. Invited to the 3rd Annual Bear Hawaiian Pro Longboard Invitational late last year, he stayed with none other than good mate, and former world champion, Bonga Perkins.
"That was definitely a big experience," he chuckles. "Bonga won the event, but that's where he lives. I didn't even make it through my first heat. Then again, no Australian ever has. It was excellent just to make it back to shore!"
Currently dividing his work time between traditional dancing and landscape gardening, Lucas hopes to head overseas a little earlier next year to learn Spanish and hang out with friends in San Sebastian before the tour begins.
But music is what he's concentrating on over the summer months.
Lucas' band Max Judo is coming along nicely, what with shows every other week and a spot in surf flick October Sessions. He's also polishing his acoustic guitar skills with solo gigs around the Gold Coast region.
"We're looking to take our music to the next level and explore different avenues. We're rehearsing twice weekly and have about 40 songs in our repertoire, four of which we've recorded on a CD at Studio 301 in Sydney."
There you have it """ an all-singing, all-dancing surfer with green thumbs and a neat vertical snap who makes the earth move wherever he goes.
"