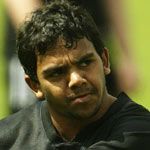 Leon Davis: Collingwood Magpies
Guernsey Number:1
Date of Birth: 17/6/81
Height: 178cm
Weight: 75kg
Leon burst on to the AFL scene last season and didn't take long to prove that he could cut it at the highest level.
What stands out the most about Leon is his speed. His coach Michael Broadbridge says he has never coached a faster player.
"There are different types of pace," says Michael. "There's pace over distance and there's pace off the mark. His change of pace is what is exciting. He goes from quick to turbo and there aren't too many players who can do that."
And while he might be as fast as lightning, his skills don't suffer from that pace. Leon can grab the ball while running flat out and his vertical jump is exceptional also.
Leon has quite a career ahead of him, so watch out for him – if you can!

Deadly Vibe Issue 71 January 2003
In a relatively short period of time, Collingwood half-forward pocket Leon Davis has established himself as a major force in AFL. He's already experienced his first grand final and is the first Aboriginal player to have clocked up 50 games with the Magpies.
In fact, when he played that game in August last year, his club's cheer squad recognised the achievement with an Aboriginal flag-emblazoned banner reading, "Congratulations Leon Davis " 50 magical games."
The other side of the banner was even better: "It's time to get excited " our Koolbardi (magpie) team is here to reveal their Nyoongar magic." Not bad for a 21 year old.
Leon was recruited from Perth Demons in 1999 after representing his state in the U18 national championships. Deciding to nominate himself for the AFL draft, he was overjoyed to be selected by Collingwood as the 34th pick.
Three years, 56 games and 63 goals later, Leon found himself in his first finals series and the AFL's showcase game, the grand final, last year.
"The atmosphere out there was amazing and the crowd noise level was something else," recalls Leon. "At times I couldn't even hear my team-mates. But it was a frustrating game. I didn't get that much possession of the ball so I couldn't play my natural game."
The frustration wasn't his alone. "We were all pretty disappointed that we lost, particularly by such a close margin. But at the same time we were happy that we got there " it was such a great experience."
Looking back over the whole year, however, Leon has reason to feel satisfaction.
"My overall form was good and I improved on the previous year. My stats were better with more tackles, I kicked the ball more and my work rate was up."
Now the fast-paced goalsneak is looking forward to his team doing one better this season. And going from ninth on the ladder in 2001 to second last year, anything is possible for the boys in black and white.
"We've recruited well and I can already feel that we are hungrier to do well. We'll also be much better for the experience of having played in a grand final."