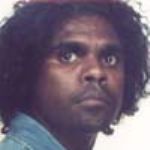 v >Deadly Vibe Issue 78 August 2003
It's not that easy starting over in new places with new people, but Leon Burchill is used to it by now.
In fact, Leon has developed somewhat of a liking to adjusting to new environments. Now studying at NIDA in Sydney, 26-year-old Leon is the only Aboriginal student currently there. That's not a problem for him, though, as he seems to have a knack for adapting to challenging situations.
Leon was the captain of Mossman High School, in Far North Queensland, before he started studying all over the place " in Melbourne, Brisbane and now Sydney – to pursue his dream of becoming an actor.
"I had a six-year plan to get to NIDA, and during that time I went to Melbourne and Brisbane studying drama," Leon says. "I'm a country boy but I have adjusted to the city because I have so much passion for what I'm doing. I would go anywhere to do it."
Leon describes himself as a cultural person, and his background in traditional dancing whetted his appetite for performance and acting.
"I come from the Daintree region of Far North Queensland and grew up doing traditional dance," Leon explains. "When we dance we tell a story through movement, and I enjoyed dancing so much that I began to think to myself that this is something that I would like to do with speech as well."
After leaving high school in 1993, Leon made up his mind that he wanted to be an actor and he set about pursuing his vision.
"I auditioned for NIDA twice and was accepted this year," he says. "Getting adjusted to the curriculum and the system was a little difficult at first, but everyone being so open made it a lot easier. One of the best things about being here is meeting and getting to know everyone and getting to work around so many talented and creative people."
Now part-way through his first year and expected to graduate in 2005, Leon has plenty of time to think about where he wants to go with his acting career.
"I would really like to go into film, hopefully involving other Aboriginal people," Leon says. "If not, I'd definitely want to work in helping other young actors.
"I tell myself every day that if I really want it then first I have to believe in it – believe in myself that I can get it," Leon says. "I think the important thing for other young people is that they find what it is they really want in life. Once they know this, then have the passion to achieve it, follow your heart and believe in your spirit."
Self-belief can go a long way, and Leon Burchill is a great example of how far a little vision and a lot of will can take you.
| | |
| --- | --- |
| What's your full name? | Leon Lennon Burchill (My parents gave me my middle name after John Lennon). |
| When were you born? | Christmas Eve,1974. |
| Where were you born? | Cairns, far north Queensland. |
| Where do you live now? | Sydney. |
| Do you have any brothers or sisters? | I have two sisters and three brothers, but I also have plenty of other people that I consider to be my brothers and sisters. |
| What's your favourite part of Australia? | Melbourne – it was where I started drama school and I would like to be a Melbourne-based actor. |
| Do you have a nickname? | My traditional name is Jina Binya – it means sea eagle. Around NIDA, people have been calling me The Golden Boy. |
| Who was the first professional actor you remember meeting? | Geoffrey Rush. I got to meet and speak to him right after he got back from America with the Academy award, but at the time I forgot his name! |
| When did you start acting? | 1996. |
| What's your favourite colour? | Sky blue. |
| Do you have a lucky number? | 3. |
| What's a funny experience you have had while acting? | It's funny when you mess something up and you think you have done something totally wrong but it actually turns out to be better and everyone likes it. I also used to have a lot of fun by making up my own dialogue all of a sudden. Other actors would look at me like, "˜What is he doing?' |
| What's your favourite song? | Lovin' You by Minnie Ripperton, Patience by Guns "˜n' Roses and Suddenly by Angry Anderson. |
| Who is your favourite Aboriginal or Torres Strait Islander actor or actress? | David Gulpilil, because he is the legend of Aboriginal actors. He started it all. |
| If you were invited to a fancy dress party, who or what would you go as? | I would go as Hamlet, because I will be playing him in third term this year. I'll be able to get my hands on an outfit from the costume department easy! |
| What animal are you most like? | I would have to say an eagle, because of my cultural connections. |
| What is the most fulfilling experience in your life? | One of the most fulfilling feelings for me is when I return home, to the rainforest where I am from, so I can feel as I though I am back in touch with nature and feel the true essence of nature. |
| What is your best asset? | People tell me that I am an open and honest person. |
| Who's real deadly in your eyes? | My high school art teacher, Arjan Murdoch – she has always been my role model because she always believed in me and helped me get to where I am now. |
| If you could travel anywhere in the world, where would you go? | The Bahamas, Brazil, the United States or Canada. |
| What's your personal motto? | I believe I can do anything. |
| Where do you see yourself in 10 years? | I'd like to be a renowned actor across the globe. I could also see myself supporting up-and-coming artists and be an ambassador for Australia. |