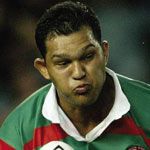 The brightest star to emerge from the high-flying Saint George/Illawarra Dragons this year was 21-year-old centre Lee Hookey.
Deadly Vibe asked Lee what he gets up to over the summer.
"You can usually catch me body surfing in my black Speedos down at Bondi Beach, Sydney. I only get a few weeks break from training, but I'm not quite sure whether I'll be going anywhere as yet."
Back in Lee's hometown of Redfern in the inner suburbs of Sydney, the big activities to do over summer are touch footy, basketball and tennis, which can be played down at the local Waterloo courts.
"I spent most of my childhood summer holidays hanging out at recreation centres such as the local Police Boys Club in Redfern, which was fun," says Lee.
It might be summer, but Lee still has an intense training schedule he has to follow, not to mention a strict diet.
"I've cut right down on the fatty foods, and have got stuck into plenty of good foods like fruits and salads. My training routine consists of endless running with the Dragons."
But he still gets to relax and take it easy.
"I like to kick back and read a few of my favourite magazines, Rugby League Week, Big League, Deadly Vibe and even Women's Weekly. I also like heading down to Bondi Beach for a swim and maybe one of my favourite ice creams, a Monaco bar."
Has he ever had a bad experience during his summer holidays?
"Yeah, when I was younger I spent the day at Prince Alfred Pool with my family. I couldn't swim that well so my big brother Budda told me to stay in the shallow end of the pool. After swimming around in the shallow end by myself for a while I decided that I wanted to swim up in the deep end with all the big fullas, so I ran up there and jumped in. After a few seconds, I realised I couldn't swim and had to scream out to Budda to come to the rescue and save me!"
Big brothers sure come in handy!
Finally, does Lee have any advice for our readers throughout the summer months?
"I just want to say to all the kids out there to train hard over the off season, remember to swim between the flags and most importantly, if you can't swim properly don't jump in the deep end!"

>DEADLY VIBE ISSUE 74
Born in Sydney in 1979, Lee was the fourth of seven children to dad Adrian and mother Linda. He grew up in the inner Sydney suburb of Waterloo, a stone's throw from Redfern, home of the South Sydney Rabbitohs.
"I was a Souths junior and always wanted to play for the Rabbitohs," Lee says. "As a kid I would finish playing footy and rush to Souths leagues club and jump on the supporters' bus to go and watch them play."
Lee initially went to St Mary's Primary in Erskineville, then Redfern Primary School before going to Glebe High School for years seven to nine. He transferred to Cleveland Street High School for years 10 to 12.
Playing rugby league, rugby union and touch football at high school, he was selected in the New South Wales Combined High Schools (NSWCHS) touch footy team. While playing in the Buckley Shield, the U/14 rugby league statewide schools competition, he was voted player of the tournament. A year later he was selected in the Australian U/15 schoolboys team.
Lee also pulled on the footy boots on weekends. He played with a number of teams – Zetland, Waterloo Waratahs, Moore Park Magpies and Alexandria Rovers – and represented Souths in the U/15 Harold Matthews Shield as a five-eighth for two years.
His younger brother Adrian also played fullback for Souths in the Harold Matthews Shield.
Moving up the ranks, he played for the Rabbitohs in the U/17 S.G. Ball competition for two years. In the first year he played as a halfback and the second year as fullback. Both years, he was selected to play for City against Country and in his second year he was picked to play for NSW against Queensland in a curtain-raiser to the State of Origin at Suncorp Stadium in Queensland.
"That was a great experience," he says. "There were about 30,000 people there and it was the biggest crowd I've ever played in front of. I was pretty nervous at first but after my first touch of the ball I was okay."
Following that, he played for another two years in the U/20 Jersey Flegg competition before being graded by Souths in 1999.
After Souths were dropped from the National Rugby League (NRL) competition in 2000, Lee was without a team and he had to find another club.
The axing of Souths from the NRL may have been a blessing for Lee, as it gave him the chance to play with a team that was a legitimate threat to win the title. He transferred to St George and signed a two-year contract with the Dragons, playing in the centres and on the wing.
"It was disappointing that Souths were omitted from the NRL and it meant that the players had to find a new club," Lee says. "I decided I wanted to play alongside Nathan Blacklock and Anthony Mundine, and I was lucky enough to be able to do that."
"I enjoyed playing with St George immensely. I learned a lot from the coaching staff and some of the players. It was a pleasure to play in the same team with two talented players like Anthony and Nathan.
"I will probably take a passing interest in their progress this year but my main focus, of course, will be on Souths. I think Nathan (Brown, the new coach) will do pretty good. He has a good football brain from playing at the top level and playing under good coaches."
After Lee's contract expired at the end of last season he found himself a victim of circumstances and had to be released by the Dragons. St George had experienced financial difficulties and consequently had to cull players to accommodate salary cap restrictions.
It was a case of deja vu for Lee as he was out in the marketplace again without a club.
"But it all worked out fine," he says. "I was approached by South Sydney and offered the chance to return to Souths again. I've signed a two-year contract to play with the Rabbitohs in 2003 and 2004. I feel happy and secure here with my surroundings. I always wanted to end up at Souths."
Following the sacking of coach Craig Coleman after only three trial games this year, it was a trying time for the club and the players. "I was surprised that he had to leave and a bit disappointed," Lee says. "I had a good relationship with him, but these things happen in professional sports."
On a positive note, Souths have recruited well and have added some big names to their roster this year. "It will probably take a bit of time for the team to gel, but hopefully we can be at our best by the first round of the comp. We've made some good buys and if we can be consistent and committed to our footy every week, we'll be okay."
Lee is engaged to Melinda and has two children: five-year-old Kobi (named after LA Lakers basketball star Kobi Bryant) and Lyndell, who is three. "We met at school and have been together ever since," Lee says. "I guess you could say we are childhood sweethearts."
He rates Cathy Freeman as a terrific role model and someone he looks up to.
But who does he rate as the best footballer in the competition? And who has been his toughest opponent? "Darren Lockyer is the best player, in my opinion, and Jamie Lyons from Parramatta is the toughest," Lee says. "He scored a 90-metre try on me when I was at Saints and I'll never forget it."
Asked what he wanted to achieve in the game, Lee says: "This year I would love Souths to finish in the top eight and eventually win the comp. I'd also like to play State of Origin and then play for the Kangaroos before I retire."
After all the dramas Souths have experienced this year, we hope Lee and Souths have a successful season. They certainly deserve it.