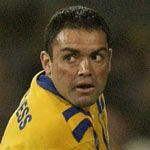 Last season centre Kevin 'Buddha' McGuinness had a year he would rather forget. Testing positive to the banned substance ecstasy, he was sledged with a heavy fine and suspended for six months. Battling intense media scrutiny – not to mention the personal demons that led to his taking the drug – Buddha was forced to go out and find casual work to get by.
After a successful appeal against the suspension and a period of counselling and community outreach work, Buddha was back on the field two months earlier than originally ruled, playing first division league.
"My first game back was pretty good because it was at Campbelltown and I have a lot of respect there," he says. "A lot of people came to watch the game, which was great."
Reunited with his first-grade side a short time later, Buddha wasted no time in reminding his many loyal supporters why he's such an electrifying centre. Playing against Newcastle Knights on 11 August, Buddha scored a try in the 71st minute, giving them the lead and helping to secure the match.
Buddha is now gearing up for the new season.
"My goals for 2002 are to play all the games for Wests Tigers, and to make the New South Wales squad for the State of Origin." He's even toying with the idea of putting himself forward for a new position. "I want to have a crack at being a fullback. No one really knows I can play there."
Kevin McGuinness was just 19 when he made it to first grade with Wests Magpies, playing alongside his older brother, Kenny. Fresh out of Minto's Sarah Redfern High School, he quickly cemented his reputation as a quick centre with equal measures of strength and agility.
Buddha's childhood heroes were his uncles Jeff and Wayne, who played A-grade footy for Minto Cobras and also for the Redfern All Blacks.
"They were my idols. I used to sit up on the hill after my game had finished and watch them play." A later idol was Steve Renouf. "Having the opportunity to play against him when I got out of high school was a big buzz. I actually swapped shorts with him after a game!"
Now focused on the challenges of the coming year, Buddha stresses that life is all about learning from your mistakes.
"If you've made a mistake, don't dwell on it. Instead, look towards the positives. You know what happened to me – don't let it happen to you."

>DEADLY VIBE ISSUE 74
A former West Tiger, Kevin "˜Buddha' McGuinness is now a Manly Sea Eagle. "It feels very, very different to be a Sea Eagle," Kevin explains. " Being a Wests boy all my life, now I've come over to arch-rivals Manly it was a very big change."
Talking to Kevin about his ambitions, he says: "As a team we're looking at making the semi-finals and, on a personal note, I plan to play City Firsts again and I'm keen to impress the selectors for an Origin berth".
Running out to his home crowd in Campbelltown in the new-look Manly jersey, Kevin says: "I'm expecting a few boos, having been a Wests junior, as a couple of fans were against me moving and I felt that vibe at the end of last year."
Entering his new home at Brookvale Oval and talking about his new teammates, he says: "They are a great bunch of blokes. The very first week I was there, they took me out and made sure I felt welcome and comfortable."
Former Manly Sea Eagle and Kangaroo Des Hasler is the head of the Manly Sea Eagles training program. Kevin says that Des "was the fittest player who played in his era".
"With him being our trainer, he just torches us expecting us to do everything he's done," Kevin says. "It's a big change from the old Wests days."
Coach Peter Sharp will play Kevin in the centre this year and Kevin plans to cement that spot. "I've got some tough opponents," he says. "Size is not on my side, but I'll be using my agility and speed to get around some of the bigger centres.
" My toughest opponent would have to be Bulldog Willie Talau. He's a very tough competitor. My all-time toughest would have to be (now retired Dragon) Paul McGregor. He's big and very strong, a tough opponent to mark."
Asking Kevin about the golden point rule, he explains: "I don't mind it. I think it will take some adjusting to and what I think (the NRL) are trying to do is minimise the draw factor of the game, which will be interesting."
With a huge and vigorous training schedule, as well as his long-term goals, it looks like it's going to be a big year for Kevin at his new home at Brookvale. Good luck in season 2003 "˜Buddha'!