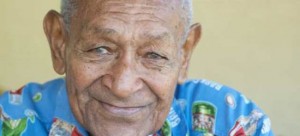 Born on Thursday Island in 1929, Henry Gibson 'Seaman Dan' is one of our most treasured singers and performers.
In the late 1940s and 1950s, Seaman Dan worked as a boat captain and pearl diver and his music blends traditional Torres Strait Islander and pearling songs with jazz, hula and blues.
After a lifetime performing around the Torres Strait, Seaman Dan released his first album, Follow the Sun in 2000 and won the ARIA award for Best World Music album in 2004 (Perfect Pearl) and 2009 (Sailing Home).
Discography
Follow the Sun (2000)
Steady, Steady (2002)
Perfect Pearl (2004)
Island Way (2005)
Somewhere There's An Island-Best of 1999-2006 (2007)
Sailing Home (2009)