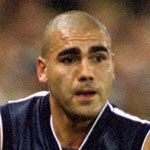 Deadly Vibe Issue 61 March 2002

JUSTIN MURPHY – CARLTON BLUES (EX-GEELONG CATS)
Justin left Carlton for Geelong last year, but things didn't pan out and so he has returned to the Blues in 2002. This should be music to the ears of those dyed-in-the-wool Carlton fans who have always adored Justin's supreme on-field style. Having fully recovered from his woeful knee injury of a couple of years back, the prodigal midfielder/forward should be a tower of strength for his old club this season.
(Story 1/3/2002 end)
Deadly Vibe Issue 53 July 2001
Now playing in his eighth season with the AFL, Geelong Cat Justin Murphy is proving that he's got what it takes. Although missing most of last season due to a knee injury, Justin has recovered well to play every game of the 2001 season strongly.
Round 10 of this year's season saw Justin play his 100th AFL game (against the Adelaide Crows at Football Park), something he was very proud to have accomplished.
"To play 100 first-grade games has always been a goal of mine, and I feel really good to have achieved it," he says. "I'd now like to go on and play another 100!"
Born in Launceston, Justin and his family moved to Melbourne when he was seven years old, where he grew up in the suburb of Hawthorn. Justin recalls spending many a summer holiday at the beaches of Mornington Peninsula and Sorrento with his family when he was growing up.
"I've always loved the beach. It was good to pack up the car and head out there for a family holiday."
And it was during Justin's time in Hawthorn that he first took an interest in football. Playing junior footy with the Central Dragons, it wasn't long before his skills were noticed and Richmond Tigers came knocking on his door.
After spending two years with the Tigers, playing a total of 12 first-grade games, Justin switched clubs to play with Carlton. He ended up playing 79 games with the club, including the 1999 grand final.
But what was supposed to be the best day of his life turned out to be the worst.
"I injured my knee pretty bad during the grand final and found out a couple of days later that it would require surgery," says Justin.
Justin spent most of 2000 recovering and, as a result, only managed to play one game for Carlton. But he's back stronger than ever this season with his new team.
"Things have really picked up since I've moved over to Geelong and now I'm really enjoying my footy."
(Story 1/7/2001 end)