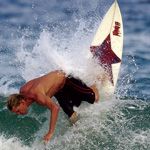 Deadly Vibe Issue 107 January 2006
On Board
Just you, your board and the big blue " why surfing is the ultimate high.
There's something about surfing that seems to offer a greater sense of freedom than any other sport. Being out in the there, riding atop powerful waves that buck and weave like a brumby; it would have to be right up there with one of the all-time greatest natural highs. No wonder surfers seem to be totally hooked.
Jon Craig is one person who couldn't shake the surfing bug. This 26-year-old is a past winner of the Indigenous surfing competition in Fingal on the north coast of New South Wales who gave it all away for full-time work. But four years on, Jon is back on his board and raring to go.
"I thought my time was past," Jon says of his surfing hiatus. "But my sister Lisa got me psyched up to get serious about surfing again. Now it's like a whole new lease of life for me."
Jon's sister also provided the extra incentive that Jon needed by offering to sponsor him on the World Qualifying Series tour, which will see Jon and Lisa travel to exotic locations around the world.
"I'm starting off at the Oceania Cup in Samoa," he says. "And from there I'll be going to places like Brazil, South Africa, Japan and the Maldives. I'm really looking forward to it. I'm feeling pretty confident that I'm going to do well, and I hope that I can raise the profile of Aboriginal surfing, not just in Australia but around the world."
(story 1/1/2006 end)