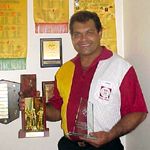 Deadly Vibe Issue 83 January 2004
Rockhampton is well known for its beef and sugar cane, but the Queensland city can also lay claim as the breeding ground for some of the country's most exceptional darts players, many of whom are Indigenous.
Darts is one of the biggest sports in Australia, enjoying a huge player base, and has grown in popularity over the years.
Rockhampton man John Matheson is one Australia's premier darts players. As well as being one of the country's most skilled sportsmen, he is also a proud Aboriginal.
"I've been playing darts competitively since about 1989," says John. "One night I was at the club when a team was there for a darts competition. They were a man short so I joined in and it started from there."
Since then, John has gone on to compete at the highest level in major cities across the country. He has also represented Queensland at the national titles that are held each year.
The Queensland team consists of eight players and is selected over a long process of zone and state championship play-offs that narrow the competition down to the best 60 players in the State.
This group is then narrowed to a final top eight who represent their State and compete for national honours.
In the Queensland competition, John has finished as the number one player three times. He's also helped his team to second and third placings at the national titles, with his greatest honour coming when he was named as a bench player for the Australian team.
Over the years, he has won a bevy of zone open champion ships, and although he still enjoys the local competition, his biggest thrill is playing in the highly competitive State games.
"I like the atmosphere and the intensity of the State games," says John.
"I think the higher the level that I'm playing at, the better I perform. Local games aren't much competition. Playing for State is a whole different kettle of fish."
In preparation for the intensity that is competitive darts, John practises from three to seven hours a day in the lead-up to a big match, illustrating the level of dedication it takes to compete at such a level. He is also ultra-competitive, as all exceptional sportspeople need to be, and he likes nothing better than winning.
"Each time I have won a game playing for Queensland, it has been a highlight," says John.
"It doesn't get much better than playing and winning for your State. In 2001, I also won the Australian doubles championship with Tony David, which was a memorable achievement.
"The friendships that you build while travelling with your team, and competing with friends is also a part of the sport that I enjoy, along with the skill, the challenge and the fear."
John's success has also been a great example for other Indigenous people in the Rockhampton area.
"I've coached a few young players and a few of them have gone on to do pretty good," says John.
"When I coach, the main thing I tell a young person is to do whatever they want to do in life, that they can be what they want to be if they just stick to their dreams."
One competition that John has his sights set on is the Pacific Championships, which pits members from the Australian State teams against international players.
Although darts may not be as widely publicised as other sports, it is one of the most competitive sports in the country. It requires a incredible amount of concentration, skill, mental toughness and nerve, but with John Matheson leading the way, Indigenous players are marking themselves out as some of the sport's top talents.
(Story 1/1/2004 end)