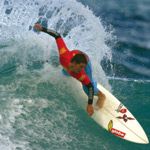 Deadly Vibe Issue 107 January 2006
On Board
Just you, your board and the big blue – why surfing is the ultimate high.
All in the Family
Defending champion Joe Haddon trounced the opposition last year to take out the men's crown in the Indigenous Classic, the first event in the 12-day EnergyAustralia Surfest.
The 20-year-old from Forster on the NSW mid-north coast launched a series of blistering backhand manoeuvres in the lumpy two metre swell to convincingly defeat 2001 Australian junior title winner Tevita Gukilau from Perth.
The event turned out to be quite a family affair in the first semi-final, with Joe coming up against his sister Lara.
Seventeen-year-old Lara is no stranger to victory in the women's section of this event, having won it for the past three years. With such a vice-like grip on the main trophy, contest organisers were not all that surprised when not a single entry was put forward from another female competitor, forcing Lara into the men's competition.
"I thought there would at least be a few women competing," Lara says.
Brother Joe admits it might have been uncomfortable if his sister had beaten him.
"I reckon I would have got a bit of stick from a few mates back home," he laughs. "But she is my sister and I really want her to do well against anyone else – just not me!"
This year will be Joe's first real attempt at the World Qualifying Series, and with a few sponsors prepared to back his substantial talent, he is hoping to get to events in the United States.
Lara has deferred entry to university to save money. She has been accepted into the Sports Management course offered by Southern Cross University and Surfing Australia and she hopes to be able to forge a career in surfing administration.
(story 1/1/2006 end)
Jumping on his first board at the age of eight, this youngster from Forster has everyone talking. Inspired by his father, Todd (who's not too bad in the green room himself), Joe has spent the last four years making a name for himself at various competitions around Australia and beyond.
"I've travelled heaps!" laughs Joe, now 17. "I've been just about everywhere except Western Australia. I really wanted to get over to Wardandi this year but all the hassle with the airlines made it impossible. Still, it's definitely on the cards for next year."
In his first competition at Forster's regional titles, Joe placed fourth. Since then, he's rarely been out of the top five in any competition he's surfed in. Little wonder, though, when you consider that he plunges into the deep blue at least twice a day.
"I try and surf every morning and every night. I suppose I'm really lucky in that one of my favourite breaks, Boomerang Beach, is so close to home. One of the things I really love about surfing is that it's free. And most of my mates surf, so it's a social thing as well."
Surfing might be a social sport, but once Joe is on that wave he's all by himself – and that's just the way he likes it.
"When I'm surfing my mind feels really clear, I can really get away from things and it also makes me feel great. The whole sensation of riding a wave – there's just nothing like it."
In 1999, only two years into his surfing career, Joe was chosen to go to Fiji to take part in the Oceanic Cup. It was there that he managed to pull off third place in the open division and fourth in the juniors. Pretty awesome for someone who was only 15 at the time!
But while he may be competing in some major events nowadays, Joe still loves hanging out with his mates.
"Surfing with your mates is kinda different to competing. You can cruise a bit more and it gives you the chance to work on your technique and check out other people's moves."
This is only Joe's first year in the Pro Juniors, but he's already managed to place an impressive 59th overall. He was also chosen to take part in a unique surfing odyssey.
"The surf magazine Surfing World invited about 15 of us down to Bendalong Beach to compete in the Grommet Bash recently. The top six guys from that comp were then taken on this awesome six-day surfing safari. We travelled down New South Wales' south coast and surfed the Australian pipeline. They put us all in this huge house. Man, it was surfing heaven."
Joe has his sights set firmly on pursuing a career in professional surfing. And who knows – he may well follow in the footsteps of idol Mick Fanning and take out USA Surfer magazine's Breakthrough Performer of the Year award. If his recent performances are anything to go by, you can be sure of seeing a lot more of him in the green room.