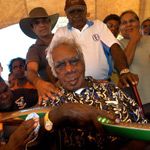 Deadly Vibe Issue 110 April 2006
Remembering Mitta
A forgotten legend returns to the spotlight.
We've got plenty of Commonwealth champions. Ask anyone who they are, and they would be able to reel off names like Catherine Freeman, Nova Peris, Kyle Vander-Kuyp and Patrick Johnson. Some may even know of Percy Hobson, who won a gold medal in the high jump at the Commonwealth Games in 1962.
But how many of us have heard of Jeffrey Dynevor?
Jeffrey, also known as "Mitta", was the first Aboriginal person to win a Commonwealth gold medal, and remains the only Aboriginal person ever to win a gold medal in boxing. He won the bantamweight division at the 1962 Commonwealth Games in Perth and was one of three Aboriginal boxers, all from Cherbourg, in that year's Australian team.
Born in Far Western Queensland, Jeffrey grew up on the Cherbourg Mission after his family were forcibly moved there. It was here that he took up boxing.
Jeffrey recently received a long overdue nod for his achievements when he was invited to be involved in the Queen's Baton Relay for this year's Commonwealth Games.
A special tribute was organised for him by the local Aboriginal Shire Council and the Queensland Department of Aboriginal and Torres Strait Islander Policy.
The baton relay has been a traditional part of every Commonwealth Games since 1958. It begins at Buckingham Palace before travelling via honorary relay runners, who pass it from hand to hand across countries and oceans until it arrives at the opening ceremony of the Games venue.
Jeffrey was also featured on a recent episode of the ABC's 7:30 Report, along with some of his old boxing colleagues, who remember him as a "brainy fighter" with a "terrific left rip".
Although he suffered a stroke several years ago, Jeffrey is still in fine form, telling the 7:30 Report of a work accident he had a few years before the 1962 Games that saw the tip of his finger severed. Rather than bother with an operation, he simply took a pair of scissors and cut the tip off himself.
Known as a quiet achiever and a champion outside the ring as well as in, it's hoped that this honour paid to Jeffrey will once again bring his achievements into the spotlight.
(story 1/4/2006 end)