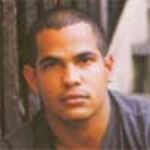 He's young, gifted and has a voice like a sweet sea-breeze. When J-Boy sings, everyday worries mysteriously evaporate and the world becomes a groovy, soulful kind of place. And thanks to his debut CD, Waited (Kalakuta Records), we think that's going to be happening a lot over the next little while.
A former member of Native Ryme Syndicate, J-Boy (aka Jason Connelly) knows how to set the rhythm and choose the blues. Whether he's crooning in "Waited", a smoocher of a title track as smooth as honey, or givin' it up for the organ-fed funk of "Shake-A-Leg", J-Boy's soul-boy sounds delight the ear and ignite the body.
Deadly Sounds Most Promising New Talent 2001: – J-Boy
When J-Boy was named Most Promising New Talent at this year's Deadlys, the softly spoken lad from Queensland didn't know what to say.
"I'm still really shocked, words can't express how I feel," says J-Boy the week after the awards. "I thought I had a voice for R&B and soul, so I gave it a go. And I somehow jagged it I suppose."
He certainly did. As a former member of hip-hop outfit Native Ryme Syndicate, J-Boy knows how to woo the crowd.
"I had a good time with Native Ryme," he says. "It was a real learning curve for me."
But with his soul-boy voice and gentler nature, the lad from Mt Isa, and now Brisbane, realised he would have to realise his vision solo. And now, with his debut EP Waited, released by Kalakuta Records, he has!
J-Boy calls his music 'Indijiblu', which he says is a reflection of his modern R&B sensibilities infused with traditional Indigenous vibes.
"It's really good to be able to show where I come from and to promote language and culture."
And he's learning more and more about the industry every day.
"I'm crawling right now. Hopefully I'll be walking before too long."