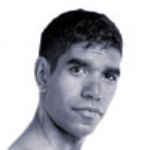 Born in Narrogin, Western Australia, Hartley commenced his training with the National Aboriginal Islander Skills Development Association College (N.A.I.S.D.A.), completing a Certificate in Dance.
His performances include World Youth Soccer Championships, AFL Grand Final half-time entertainment, Dreaming and Koey Surum. While studying at N.A.I.S.D.A., Hartley pursued his interest in Television work. In particular, commercials for companies included IKEA, Fosters Lager, H.C.F. and a television mini-series "Kings in Grass Castles". He also featured in a documentary for a German promotions company, based on Fraser Island.
Following this, he returned to Western Australia to accept a role as Assistant Coordinator at the Aboriginal Dance Development Unit (A.D.D.U.) for a period of one year before accepting the internal position of Course Coordinator. During this time, Hartley supervised a trip to Lombadina, a remote Aboriginal community in north WA, encouraging A.D.D.U. students to learn the significance of traditional forms of dance of that particular region. Performances included OZ Concert, Joy Youth Festival and National Aerobic Championships.
Hartley was also invited to choreograph and conduct teaching workshops in many schools throughout the state. To ensure the further development of contemporary dance styles, he studied at the Western Australia Academy of Performing Arts (W.A.A.P.A.).
After a three year period in WA, Hartley moved to the United Kingdom to dance with the London Contemporary Dance School for a one year period. This was funded and supported by the Australia Arts Council. During this year, Hartley was presented with the Queens Trust Award for outstanding achievements.
Upon returning to Australia in 1996, Hartley worked as a freelance dancer with recent performances at the Survival Concert, Camouflage, N.A.I.S.D.A.'s 25th Anniversary Celebrations, Metropolitan Land Council, Dream Time Traces, The National Australian Museum First People Gallery, Sydney Dreaming, Parramatta Dreaming, Sydney Maritime Museum and ISES International Conference. In 2002, Hartley was also a Gold Medalist in the Sixth Gay Games held in Sydney.