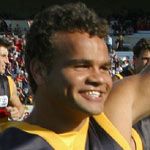 Deadly Vibe Issue 67 September 2002
This time last year Graham Johncock was playing footy for Port Adelaide Magpies in the South Australian National Football League (SANFL).
Drafted to the Adelaide Crows from the Magpies in 2000, a broken jaw and a full side saw his AFL debut delayed some. But his impressive form in the SANFL was noted and Graham was named emergency for the Crows three times late in the season.
Still, he was disappointed to miss out on footy finals fever.
"I was watching the Adelaide Crows playing in the finals thinking how great it would be to be a part of it," says the lean 19 year old. "It's every player's dream to be there and I was hoping that it could be me."
One year on and Graham's dream could well be about to come true. Now a permanent fixture with the first grade side, this season has seen him play a variety of positions " back pocket, forward pocket and wing " in every Crows match.
His favourite position is forward pocket. "It's better to score goals than to have them scored against you!" he chuckles.
It's been a rapid rise for the talented youngster from Port Lincoln, but one that was very much planned.
"At the start of the year I set some goals for myself. I wanted to get a spot on the Crows team, establish myself there and then consolidate that with good performances."
Graham has certainly done that, and is already being compared to Kangaroos legend Byron Pickett. He puts it down to the fact that he was picked by such a strong club.
"It's a lot easier for a young guy when you're playing with a strong club. Being among great players takes the pressure off you a bit. Plus you learn a lot quicker!"
By now it is no secret that Wayne Carey is the latest Crows recruit. According to Graham, the Aussie rules legend will bolster their forward strength and give them the strike power they need.
"It'll be good to have Wayne at the club. The young players will learn a lot and his skill, experience and leadership will be invaluable."
The Crows won back-to-back titles in 1997 and 1998, and made it to the preliminary finals last year. Graham thinks they have a good chance of winning the flag this year.
"If we can continue to play the way we're playing right now, we'll have good momentum going into the finals. If we play our best, I think we'll be a real chance."
In something of an upset, arch rivals Port Adelaide have nabbed the top spot going into the finals. Graham says it will only motivate the Crows to play even better.
"My favourite games are always the ones against Port Adelaide. The grounds are full of very vocal crowds, and the atmosphere and pressure brings out the best in us."
While they're currently third on the AFL ladder, Graham believes any one of four or five teams could take the title.
"The Lions are the benchmark for the competition and they'll be trying for back-to-back titles themselves. It all comes down to who performs on the day."
The Crows are certainly performing at the moment and so is Graham Johncock. It would be no surprise to see them perched atop the AFL trophy on 28 September.
After a superb season in 2000 with Adelaide Crows affiliate, the Port Adelaide Magpies, 18-year-old Graham Johncock is ready to graduate from SANFL (the State's first division competition) and go head to head with the big boys.
Hailing from Port Lincoln in South Australia, Graham started playing at the age of eight with Aboriginal football club the Mallee Park Peckers – and he's been hooked ever since. After some great seasons as a teenager in his hometown, Graham's speed and strength drew the attention of the Magpies.
"I was so excited when I found out I'd been drafted by the Crows two years ago," says Graham. "All my hard work was finally paying off. But I've still got a long way to go."
After the national draft had been announced in October 1999, Graham packed his bags and headed for Adelaide, with mother Joylene in tow.
"It was my first time away from home, and living in the big city really took a while to get used to. But mum came with me and helped me settle in."
Graham got off to a great start in 2000 with the Magpies, playing in the Under 19 division. But midway through the season he suffered a broken jaw and was out of commission for a month.

"When Graham broke his jaw he was ruled out for four weeks," says Magpies development manager Darren Hams. "But he made an amazing recovery and quickly found himself in the Magpies' A-grade team. He's been playing brilliantly ever since."
Graham has a pretty busy schedule, training with both the Magpies and the Crows four times a week, as well as lifting weights at the gym.
"I take my training pretty seriously. You only have to look at the way the legendary Andrew McLeod goes about his training to know just how dedicated you have to be to be the best."
Nevertheless, Graham still manages to take some time out for the younger ones.
"I usually get a day off during the week and the Crows line me up to go out and visit a school," he says. "I run coaching clinics, teach the young fullas how to kick a football and go through some skills with them. It's something that I really enjoy and it takes my mind off things."
Vibe wishes Graham all the best in his quest to become a Crow in 2002.
(Story 1/9/2002 end)