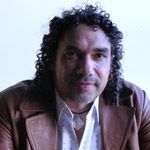 Deadly Vibe Issue 95 January 2005
Restless soul
After dropping his debut album Out of the Darkness back in 2001, Glenn Skuthorpe has spent most of the past two years on the road.
Out of the Darkness introduced Glenn's distinct musical style and received a strong response, with extensive airplay of his single Cradle to the Grave and Deadlys nominations in the categories of Best Album, Best Single and Best Male Artist.
In between touring, Glenn was also busy working on his follow-up album, Restless Souls.
" When the first album was released it did really well, and you always love your first album the most," says Glenn.
" But I think that the second time around, I was definitely more anxious and I was very curious about how people would respond to the album.
" The second album took longer to make, around three months all up, but it has really taken off, which is good."
While success has not changed Glenn himself, fans would have noticed a slightly different sound from his first album to the next.
"Whereas the first album was really acoustic, the second is more of a full band type of album, much more rock influenced with a blues and roots kind of sound," says Glenn.
Over the past year, Glenn and his band have travelled far and wide, visiting places such as Hervey Bay, Cairns, Armidale, Lightning Ridge and many places in between.
"We've been to every State except for WA," says Glenn, who is pleased with the band's growing following in bigger cities such as Melbourne, now one of his favourite places to perform.
"Our biggest following is still in the country areas and towns, and I still love playing those places, like Bourke and Brewarrina where we are from.
"But the next step is cracking those capital cities and broadening our audience, so right now we are concentrating on doing some more shows in Brisbane and Melbourne, and then from there hopefully taking it overseas," he says.
As Glenn and the band continue to strive for more while bringing their music to the people, the love and encouragement they get from people the nation over is what keeps them going.
"When people travel from miles away just to hear your music and get up and have a dance to it, that is one of the most pleasing things for an artist to see," says Glenn.
"When people come up at gig and say, 'I really love that song, I have your CD and came all the way out here just to see your show', it makes it all worthwhile."
(story 1/1/2005 end)

A little light music
If there's one man who's been working hard at making his name in the music biz, it would have to be Glenn Skuthorpe. Now with the release of his debut album, Out of the Darkness, his songs are finally seeing the light of day. The year 2002 will see Glen promote his album, perform in his signature manner and hopefully tour at least the east coast.
Glenn Skuthorpe has a sound that is all his own. Neither too rough nor too smooth, the singer/songwriter's unique talents give rise to music that evokes, inspires and satisfies. His tone is honest, his style earthy and heartfelt. Singing about the various things that push us forward, hold us back and make us what we are, Glenn has the ability to thaw even the coldest of hearts.
"Music is a great equaliser," says Glenn, 37. "Everyone listens to music, so you can really touch people and break down barriers with it."
Born into a family of eight children, Glenn is a Noonghaburra fulla who grew up in Goodooga, near Lightning Ridge in northwest New South Wales. Completing his higher school education at Sydney's Tranby College, his first break came when he was invited to perform an acoustic set at Belvoir Street Theatre. But getting to where he is now has been a long journey involving many bands and even more venues.
One of the reasons why Glenn has so much to sing about is that he leads an active and socially engaged life. A talented footballer who played for Wingham on the North Coast, he is also a dedicated golfer and has won the NSW Aboriginal Open. And as an official visitor to Lithgow and Silverwater gaols with the Department of Corrective Services, he has plenty of counselling and mentoring experience up his sleeve, too.
"If you've got anger or sadness inside you, I think you should put that into your music," he says. "You can put so much emotion into it, whether that be sadness or happiness, and create something really positive."
Glenn admits that you have to put your emotions to one side when working with inmates, but that doesn't stop him from assisting them as much as he possibly can.
"My role is to communicate with them, help move them to better gaols and help them get jobs once they've been released. Sometimes we hold concerts in gaol for them, too. It's a good job."
Produced by Steve Francis, Out of the Darkness combines powerful, tuneful melodies with a distinctive voice and captivating lyrics. As veteran guitarist Dave Steel says, "These heartfelt and gritty songs are brought to gentle, lilting life. Glenn's strong, weather-beaten voice rings true. This man is a poet!"
One of the most moving tracks on the album is "Cradle to the Grave", in which Glenn sings about a good friend who died while in custody. It touches on a theme that is painfully familiar to many Aboriginal people.
"That one always seems to get the crowd going," says Glenn. "It's an emotional song because there is always someone in the audience who's been affected by deaths in custody in some way."
Another standout song on the album is "Nothing to Fear". Written for a friend who was struggling with drug addiction, it is another tune that will touch many hearts.
"I wrote that for a friend and it actually helped her get back on track. I guess I saved her life with that song," he muses.
Glenn derives a real sense of purpose and responsibility from his musical talent. And to be able to change someone's life for the better through his words and music – all the better!
Having just finished performing at the 2001/2002 Woodford Folk Festival north of Brisbane, Glenn is currently touring around southeast Queensland. After that he will head down to Adelaide and Melbourne for more gigs, before planning some overseas dates for later in the year.
It's a far cry from how he started out in the industry.
"When I first came to Sydney it was hard to make a break – I did the pub scene for 10 years! I've certainly struggled, but now it's finally taking shape. That's why I say that if you have a dream, you should chase it. Work hard enough at it and everything will eventually fall into place."