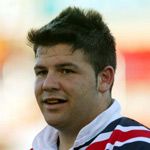 Deadly Vibe Issue 87 May 2004
It doesn't matter how long you play footy for or what games you play in, a player's first-grade debut is one they never forget.
And with the skill level and competitiveness of the game at an all-time high, it's now harder than ever to crack first grade with any club in the NRL, especially when that team is the Sydney Roosters.
The Roosters' already star-studded line-up wasn't enough to stop talented young forward George Rose from forcing his way into the top team, however. And after being one of the premier league's stars in 2003, George made his much-anticipated first-grade debut recently in the Roosters hard-fought win over the Knights in Newcastle.
George was quickly recruited by the Roosters at the start of this year after head coach Ricky Stuart recognised the 110kg forward's potential while he was playing in the lower grades for the Penrith Panthers. At the time, there were several other clubs vying for his signature but Stuart was adamant that George would become a Rooster.
George says of his first-grade debut: "The intensity and the speed of the game are so different to what I was used to playing in.
"I was feeling the nerves but all of the players were really encouraging before the game – they told me to be confident and do my job. Ricky Stuart had a word to me as well and told me to just go out and do my best."
George ended up playing for about 20 minutes on debut, and put in a solid, mistake-free performance.
"It wasn't my best performance and I would have liked to have played longer but it was a good start," says George. "I didn't make any mistakes and I've got some experience now."
While his time on the field was limited, now that George has had his first taste of first grade, the 20-year-old from Walgett knows he has what it takes to mix it with the best.
"I really didn't expect to be getting the call-up to first grade this quickly," says George, who only signed with the Roosters this season on a two-year contract and had to battle a serious injury early in the year.
"I tore my hamstring just before the season and I missed out on all the trials but despite that I've still been able to play well enough to get into first grade after a few games, which is great."
Now that he has shown he deserves a spot in the top squad of one of the NRL's top teams, the sky is the limit for one of the Roosters' most exciting young prospects.
(Story 1/5/2004 end.)